Matt Barnes ARRESTED For Domestic Violence, Claims He's Innocent!
Sep 09 | by Natasha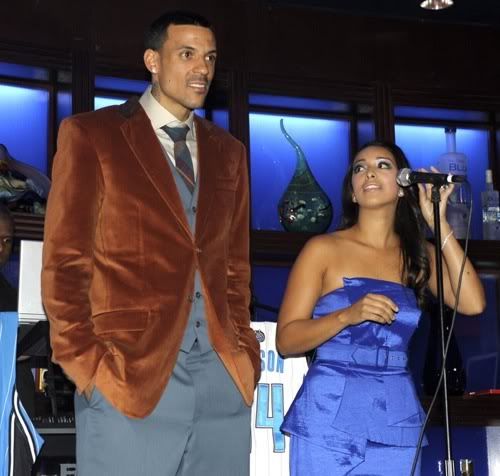 Well here's one way to kick off your brand new NBA contract with a new team. Laker Matt Barnes was ARRESTED in Cali last night! And it was all over a domestic violence situation. The deets when you read on...
While cops aren't releasing the name of the female in the situation, we're guessing it's safe to say it was his ex-fiance (but still girlfriend and mother of his kids) "Basketball Wife" Gloria Govan. She was described as "a woman who lived with him and with whom he had a dating relationship."
Matt was arrested in Sacramento, CA around 4:16PM yesterday after a domestic violence situation at his home went down. Cops arrived on the scene after an "incomplete 911 call" was placed. Both parties--Matt and the "mystery woman"--had visible injuries. Matt was charged with suspicion of domestic violence AND violent obstruction of the use of a telephone line. So basically homegirl was trying to call the cops and he yanked that ish (or her) away.
Of course, Matt took to twitter and the News to claim his innocence after posting his $50,000 bond around 9:15pm last night:
"I was the victim but still got arrested."

The report also states that Barnes also texted May, "U know any domestic violence situation 9 outa 10 times the man gets arrested. That's the case here I was the victim but still got arrested. No matter what I say people are gonna think what they want..."

Barnes also posted the following on his Twitter page, ""DON'T LET YOUR EARS WITNESS, WHAT YOUR EYES DIDN'T SEE!!!"
This is a steamy breakfast oatmeal MESS.