T.I. AXE'd From Sponsor? + Lupe Talks Label Drama + T.O. And OchoCinco's New Talk Show
Sep 09 | by YBF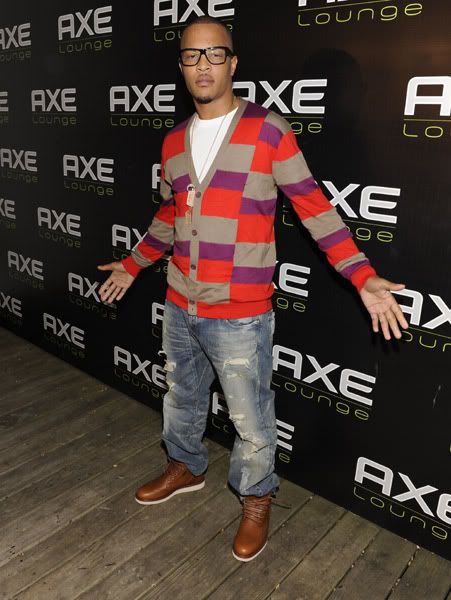 T.I. is still feeling the backlash from his recent drug arrest. Find out which sponsor is considering dropping him from their ads, plus Lupe talks about his album delay, and T.O. and Ochocinco have a new show when you read on...
More jail time isn't the only problem T.I. is facing after his arrest. AXE Body Spray is debating about releasing the rapper from an ad on their website.
An AXE spokesperson said the company is "troubled by T.I.'s arrest" and they are "reviewing our promotional activities" with him. The rapper got the deal with AXE earlier this year because he promised he was working on being a more positive role model.
T.I. is still featured on the company's website. Guess we won't be seeing him in any AXE commercials anytime soon.
It's been awhile since Lupe Fiasco released an album, and now the rapper says his anticipated Lasers album may never be released. Lupe and Atlantic Records are still at creative differences over the album.
Lupe said,
The situation with me and my record company has gotten to the point where it's just like…we're really at our final straws. People could say it's me, that "Lupe doesn't want to make popular music" or "The label has got to have records that they can sell and Lupe is not giving them the records they want to sell, I'll meet a fan on the street and we'll have a full conversation about it. There's maybe six or seven people walking around who know the whole story with their mouths wide open and their jaws to the floor as to why Lasers has been held up to this point and why it's not coming out. I can't tell you that. We're in a space where we're still negotiating and some stuff isn't meant for the public."
The rapper continued saying,
"I literally put it in God's hands. You know what, Lasers is a record I poured my heart into. I was actually making my own music, in the studio making the songs, and rapping on them. And at the same time, making the music more acceptable. Not making it more poppy, but making it more popular. Putting it in the position where more people can understand it but at the same time still satisfy my hardcore fanbase."
I respect Lupe for sticking to his vision and not making an overly commercial album. Hopefully this can be resolved so both parties get what they want.
One TV show isn't enough for BFF's T.O. and Ochocinco. The Bengals receivers now have a weekly TV talk show called the "T.Ocho Show." The show debuted this past Tuesday on the Versus cable network as a part of the "Daily Line" which is a sports show. The "T.Ocho Show" will become its own half hour show starting October 12. The NFL stars will discuss their views on the NFL, Twitter, and highlights from their reality show. Oh joy...
With all these TV shows and all other off the field activities, I hope T.O. and Ochocinco perform great on the field or there won't be anymore TV shows. These two have been all over the media this summer. Can't knock their hustle...