Child Rebel Soldier's Latest Single " Don't Stop" + Former NBA Player Steve Francis Arrested At LAX
Oct 10 | by YBF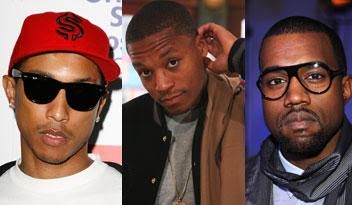 After years of on and off rumors, Lupe Fiasco, Kanye West and Pharrell Williams' supergroup, Child Rebel Soldier, have finally collabed for a new track called "Don't Stop." Plus find out why NBA player Steve Francis was arrested at LAX airport Thursday night...
Yeezy is definitely keeping good with his promise to release a new track every Friday (or weekend lol). Dude is a beast and has pretty much done a song with every hot artist out right now. Listen to Kanye's new G.O.O.D. Fridays drop featuring Lupe and Pharrell called " Don't Stop."
DO WE LOVE IT?
In the foolywang news, three-time NBA all-star player Steve Francis, was arrested Thursday night at Los Angeles International Airport.
Francis appeared intoxicated at the ticket counter and started to become unruly with the airport staff. He was then taken into custody about 10 p.m. by airport police for resisting arrest. He posted $10,000 bail early Friday and was released. He is scheduled to appear in court Nov.5th. SMH.