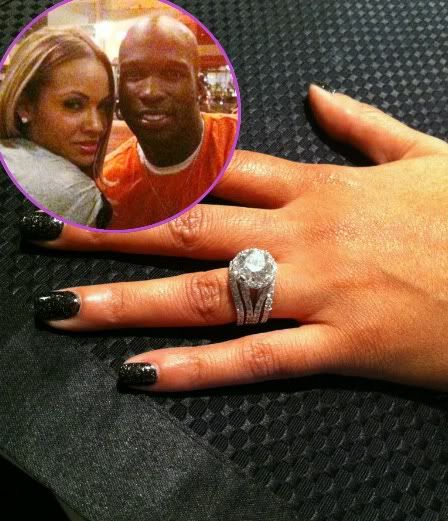 Here we go again. Chad Ocho Cinco Johnson and Evelyn Lozada are allegedly engaged. We've got her 10 carat ring she just Twitpic'd...plus a "Pregnant" pregancy test she also tweeted, when you read on...
The couple have been dating for around 4 months. After Chad left "Dancing With The Stars" and he stopped courting his partner Cheryl--who he also bought a huge diamond ring for.
And today, "Basketball Wife" Evelyn Lozada, who traveled from Miami to Cincinnati for a visit, tweeted this pic of a beautiful 10 carat ring with the caption:
I'm no rabbit but 10 carats looks good on me!! Let the hating begin ▸▸▸▸▸▸▸ Let's go!!!!! *Wink*
Ummm ok. Her followers also asked her if all this was just a stunt, seeing that she'll be pubbing for season 2 of her show soon. She responded that it isn't because "she doesn't need that much attention." Girl....
She also tweeted a pic of a pregnancy test yesterday that had the results of PREGNANT on there. She said "OMG, I need a major time-out!!" Don't need attention huh?
Anywho, the two aren't explicity saying they're engaged, or even that Chad bought her the ring, but reports around the net say they are, and he did. I guess time will tell...