Bishop Eddie Long To Settle Sexual Abuse Cases?! + DeShawn Snow Returns With Reality Show?!
Nov 20 | by _YBF
Bishop Eddie Long, pastor of New Birth Missionary Baptist Church, was in court yesterday to address the allegations of sexual abuse filed against him by four young men earlier this year. Find out if they may settle the case and get the church announcements about former Atlanta Housewife and New Birth member DeShawn Snow's reality show inside...
The first court hearing for Bishop Eddie Long's sexual misconduct case was yesterday, and the one thing that seemed clear was all of the parties involved want to resolve the situation soon. Reports from Atlanta say the case is headed for "settlement talks". Lawyers for the bishop and the four young men who have filed suits against him said they want to avoid a trial and resolve the dispute in mediation by early next year.
During the hearing on Friday, both sides asked to have a mediator resolve the explosive allegations, and Judge Johnny Panos set a February date for mediation. If that doesn't bring a settlement, the first of possibly four separate trials could begin in July or August.
And what exactly would they be talking about in mediation? Well...the attorneys said that the court will hear from expert witnesses who will talk about the relationship that SHOULD be there between a professional, like a bishop, and a parishioner, like the young men who have filed suit against him. Hmmm. I'd love to listen in on that one. If all allegations do ring true, I hope the young men in this case haven't been emotionally damaged beyond repair. And that everyone can move on.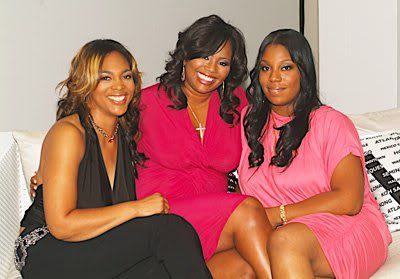 In other New Birth Missionary Baptist Church news, one of its members who continues to be blessed is Sister DeShawn Snow. Rumor has it that the Lawd and BRAVO may be bringing her back to televison in 2011.
The former Atlanta Housewife and newly single lady (her ex-husband knocked up one of their college friends) has a new reality show that focuses on her weight loss, her non-profit foundation, her Snowball Production Company empire, and entering the dating scene. She will be featured alongside her two sisters and her mom (her sisters pictured above).
Though no network has formally announced picking up the project, an industry insider says Bravo has expressed interest in airing the show in the third quarter of 2011.