Nicki Minaj Promotes "Pink Friday" Lipstick At MAC + Kanye West Covers COMPLEX Magazine
Nov 23 | by _YBF
This week the music industry is pink with Nicki Minaj fever. She hit up the MAC store today in Times Square, NYC to promote Pink Friday Lipstick, part of another promotional tie-in to her album release. See pics inside plus the new Kanye West cover for COMPLEX Magazine...
At her MAC launch, Nicki rocked a white mink coat with rainbow tresses and a black and tan dress.
Pink Friday lipstick goes on sale on MAC's website beginning November 26th, with the limited edition only available on the four Friday's in December 2010.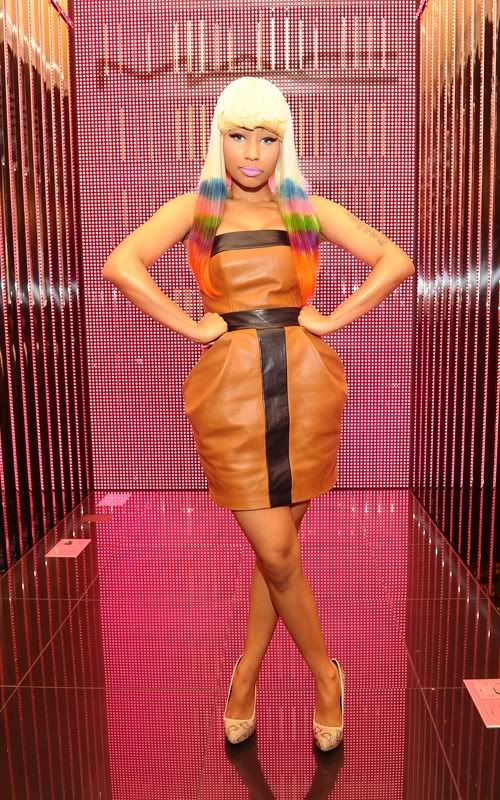 Nicki's new documentary "My Time Now" is hitting MTV airwaves on November 28th at 10pm Eastern. In it she's revealing her more private side as Onika Miraj.
Nicki explained,
"They're gonna meet Onika. Everybody sees Nicki Minaj; they're gonna meet Onika. They're gonna hear my story, and it's such an inspirational story, which I never really wanted to tell. 'Cause everyone always feels like you don't want people to know too much. But when I saw what [MTV and production company @radical.media] did, I thought, 'People need to see this.' It reminds you that everyone always feels like this is it, but there's always a light at the end of the tunnel, and I feel like that's what the doc says at the end."
In other music news, Kanye West covers the latest issue of COMPLEX Magazine.
In the issue, some of the rapper's friends talk about working with him.
Nicki Minaj, who collaborated with him on "Monster" said:
"He's a legend in hip-hop and in pop culture and to be on his album is a blessing. I don't even remember him ever working with a female rapper, so to be on an album and on a record this monstrous? I couldn't have planned it better in a perfect world."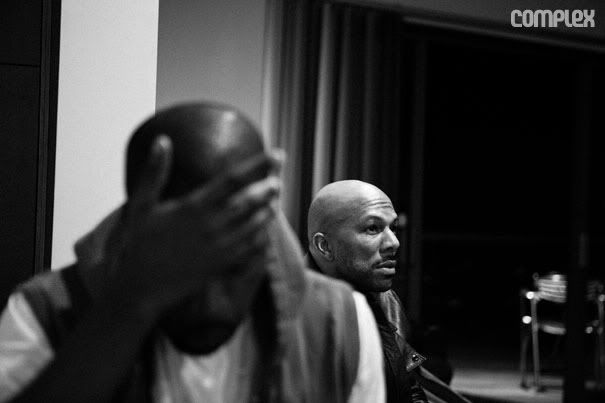 Kanye and Common in candid moment.
Kid Cudi talked about the studio process with Kanye:
"It's very casual; we're all creative people, so it's not a stressful thing for us to create in the studio. We're not in there pulling our hair out. We all have good ideas, and that's why the records usually come out the way they come out - everybody adds their flavor, and it ends up being a masterpiece."
Check out more about the issue and Kanye at Complex Magazine.
Photos via Getty Images/INF/complex.com