One of the members of the 'Bad Girls Club' is engaged. We've got the deets when you read on plus Chris Brown's Twitter beef with Raz B when you read on...
Tanisha Thomas, is about to "pop off son!" All the way down to the wedding chapel. Tanisha, who was on the second season of 'Bad Girls Club,' and the seventh season of 'Celebrity Fit Club', got engaged over the holidays. Sources say her fiance' popped the question during her family's Christmas dinner. Tanisha says that she wants a 'fantasy type' wedding complete with a 8-tier wedding cake and a horse and carriage. She says other former 'Bad Girls Club' members will be her bridesmaids and hopes that celebrity wedding planner David Tutera will plan her big day with 200 guests. A bride's gotta have big dreams right?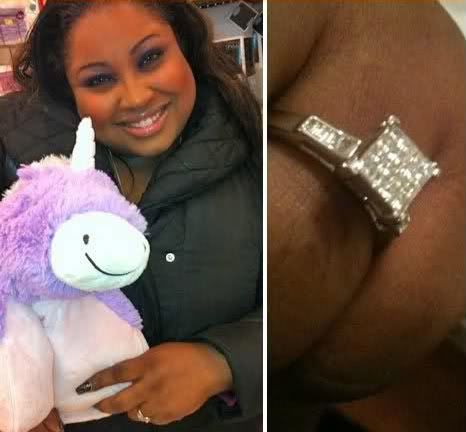 Congrats to the couple.
And over on Twitter, Chris Brown and Raz B had a few choice words for each other. Raz B is infatuated with Rihanna and couldn't believe that Chris Brown could 'disrespect' her. After seeing these tweets, Chris Brown went OFF on Raz B. One choice highlight from Chris: "nigga you want attention. Grow up nigga! Dick in da booty ass lil boy."
Ouch! I know that one must have gotten to Raz B...so this war may last all night.
Here are their tweets:
And Chris responded:
The two are still arguing via Twitter and former B2K member Omarion has joined in as well as rapper Webbie. Grown men arguing over Twitter SMH.
UPDATE:
They are REALLY going in on Twitter. Click the thumbnails for additional tweets from Omarion, Chris, Raz, Ricky Romance and introducing Andre!