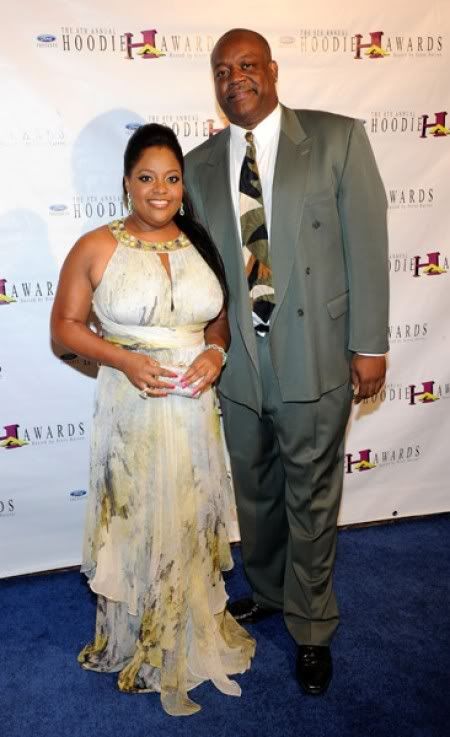 Looks like Vivica Fox and Slimm weren't the only ones to get engaged on the day after Christmas. "The View" co-host and "The Newlywed Game"'s new host, Sherri Shepherd, copped some diamonds of her own.
Read on for deets of how her man Lamar popped the question, and how he asked the man in Sherri's life for her hand in marriage....
If y'all watch "The View" religiously every morning like I do, you know Sherri's been celibate since shortly after her divorce from her cheating husband, Jeff Tarpley. She was waiting until she got a man and got married. And now she can get some nooki.
She's been dating tv writer Lamar Sally for a while now and was introduced to him by her BFF Niecy Nash--who recently became engaged herself.
Lamar asked Sherri's 5-year-old son Jeffrey Jr. for permission. How sweet! People.com reports:
"Upon arriving back to Lamar's home in Los Angeles from a trip to San Diego, Sherri was surprised to find their accommodations had been decorated with lights by one of Sal's best friends, her dog was wearing a Santa beard and hat, and, in the middle of a dish of Sherri's favorite but forbidden M&M's (she is diabetic), was a tiny little box," the statement says.

Before Sally popped the question, he sought permission from Shepherd's 5-year-old son, Jeffrey, with a little encouragement in the form of Michael Jackson's The Experience Wii game. "With that, Sal took a knee and, backed up by the King of Pop, popped the question," the statement continues.
And Sherri retweeted Neicy's congrats tonight:
Aww. The couple is planning an August wedding in Sherri's hometown of Chicago. We'll see her ring and hear more details about the engagement on January 10th when "The View" returns. And we can finally stop hearing about how horny this chick is on the daily. Cheers!