The Muppets recently ventured off "Sesame Street" to put together their own version of Kanye West's "Monster" song. See Kermit, the Count and others show you what it is to be a Monster inside. Also, get deets on actor Neil Patrick Harris dissin' Queen Latifah at the People's Choice Awards.....
That was a cute vid. I love it when the Muppets take on pop culture.
In other TV news...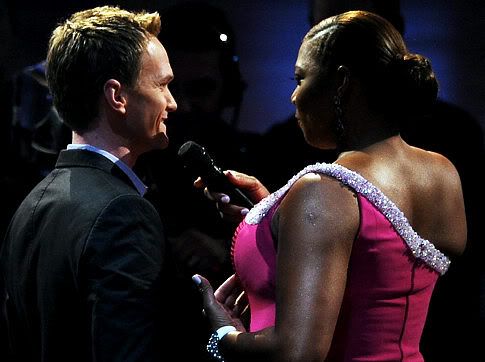 The 2011 People's Choice Awards ceremony had a few awkward moments, one being Queen Latifah getting dissed by Neil Patrick Harris.
The pair began by dancing awkwardly together as the show returned after the commercial break, then Queen Latifah asked Neil to rate her performance as host.
Neil said, "You're doing OK, I give you a solid B+," sarcastically. The audience got upset and responded with a large amount of "boos."
After losing the audience, Neil quickly changed Latifah's score to an A+, but the damage was done.
After the show, he tweeted:
"Wow, Queen Latifa gets an A+! Best host ever! And she's totally not pinning me to the wall backstage, choking me... as I... write this..!"
Queen Latifah played it cool...and perhaps she was in on the joke.