Natalie Nunn Fires Shots At Wiz Khalifa & Amber Rose + Did Kevin Hart's Wife Out His Cheating Ways?
Jan 18 | by _YBF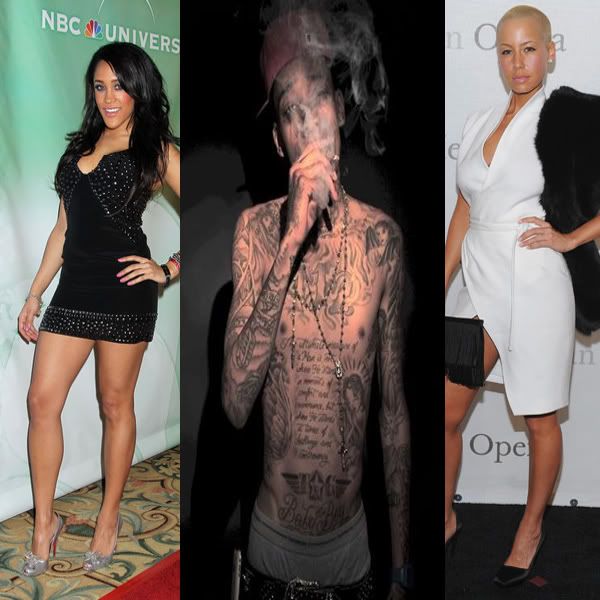 It's been a messy messy day in hip hop. Natalie Nunn just dropped a video where she details what really went down with her and Wiz Khalifa and Amber Rose gets the brunt of it.
Also, a female comedian, whom we believe is Kevin Hart's soon to be ex-wife, was caught on stage talking much -ish about her cheating husband. Hmmm. Get the deets inside....
Natalie Nunn sat down to record a 20-minute video detailing what happened on the few nights she spent in the company of Wiz Khalifa. Nat says he got a little salty when she didn't give in to his advances. Then she goes on a long rant about how successful and busy she is and that now he is screwing a "ho" who doesn't have a life or anything to do careerwise (Amber Rose).
Some choice quotes:
"I still have two degrees that you cannot take from me. Okay, not a degree as a stripper, you feel me?! Not a degree as a stripper, a f**king degree. One of the best soccer players in the f**king country, ran on the junior Olympic track team. So with all due respect, I'm not trying to take nothing from the next b*tch but y'all motherf**kers is gonna stop comparing me to these wack ass WANNABE Bad Girls. Cause a Bad Bitch got a f**king degree! So see me when you got a f**king piece of paper that says SOMETHING on it!!!"
"If you disrespect me, I'm going to get all in your motherf**king ass. So if there is a retaliation video just make sure you understand what you are saying before you say anything because I got dirt and I don't like to throw dirt, I like to bury b*tchies in f**king dirt."
"At the end of the day if you have something to say…all due respect, say what you got to say. But at the end of the day, your new sh*t was my sloppy seconds."

Watch the video here:
Also, we spotted a female comedian named Torrei (same name as Kevin Hart's wife) who has been married for around six years (like Kevin Hart) and who looks a lot like the woman we know as Kevin Hart's wife.
Watch the video below of her airing out her cheatin' ass husband and how she says she is happy he gets it in on the side...as long as he takes care of home. Well...we know how that one ended. Womp Womp.
Here's the video here:
Well now we know what led to the divorce.