Greg Leakes' Son Airs Out Nene & Greg's Divorce, Says Nene Owes $300K, & Greg Kicked Kids Out The House!
Jan 25 | by Natasha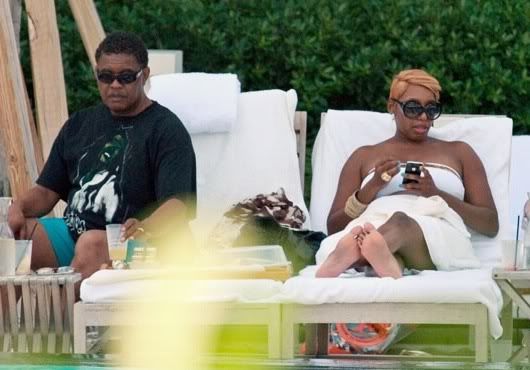 Life is anything but a beach for "Real Housewives of Atlanta" stars Nene and Greg Leakes. Greg's 34-year-old son, Damian Leakes, is now spilling the beans about his stepmama and Greg. And it ain't pretty.
Read on for the divorce details Nene doesn't want you to know...
Who needs enemies when you've got family like this? Greg's son, Damian, and Nene's step-son, has been threatening to air out his parents' dirty laundry for a while now.
Damian recently told Radar that Greg and Nene are on the verge of making their divorce happen, despite Nene telling press and media that reports of their split are untrue. She claims they are just going through a rough patch but she has not moved on to another man and they are very much still together, even though we can't remember the last time we saw her wearing her wedding ring.
But it gets worse. Damian says once Greg married Nene after meeting her at the gentlemen's club, he kicked all his kids out of the house!
"Once he met her he kicked us out of the house," Damian said, "the young siblings went to my mom's, and he just ran off to start a whole new life literally in front of our faces."
The kids have never been acknowledged on the show. And now, Greg is demanding Nene to pay him back a whopping $300,000 he allegedly spent to make her a star-uh. Not sure if that includes all the body sculpting she recently got done.
Damian says, "Nothing has been filed, but lawyers have been retained," Damian said.
"Gregg is also trying to get $300,000 back, but NeNe doesn't want to give him anything.
"She (NeNe) wants to keep the house and move on with her life. They're trying to portray it as 'we're not getting divorced' and they're trying to work it out right now, but that's not the case."
Damian said, "She wants to keep the house and move on with her life. They're trying to portray it as 'we're not getting divorced' and they're trying to work it out right now, but that's not the case."
And about where all the couple's so-called money came from:
"That's pretty much what the kids are trying to figure out because we never knew that that kind of money was available or within reach to put into that kind of project," Damian said.
"At the time when the show started was when we all started really bumping heads with NeNe and Greg.

Damian claimed the hundreds of thousands of dollars spent on NeNe was used to portray "a lifestyle."
"You have to keep up with the Joneses, so to speak," Damian said.
On where all that money went:
"He [Gregg] feels like he put her where she is... he feels that she wouldn't be anywhere if he didn't give her the money to put her where she needs to be.
"He feels like he made her because he gave her a lifestyle everyone wanted to see. She feels like he should have supported her and had her back. NeNe does have a selfish quality and so does Gregg and eventually over time they're going to butt heads like what they're doing now.


"They're both stubborn. No one wants to give up anything. Everyone wants to say it's you're fault.
"My dad has always wanted to -- even if he didn't have it -- live the good life. And when they got together it was a monster being created. And this is what happens when the monster grows three heads.
We haven't verified this is his actual Twitter account yet, but it's looking like it is. Here's what he said back in August when he was trying to sell this story to our homies over at Allhiphop:
@allhiphopcom got sum REAL dirt on my stepmom nene leakes. On my dad greg too. Tried 2 spare em but fuck it
This greg son. Tired of da leakes name being dogged out. We bout to expose greg AND nene. Stay tuned

8:12 PM Aug 24th, 2010 via mobile web .There are ALOT of secrets! This is Greg leakes son. The REAL leakes family is tired of the b.s.! Time to expose the TRUTH!
Wow. Let the Splitsville drama continue...