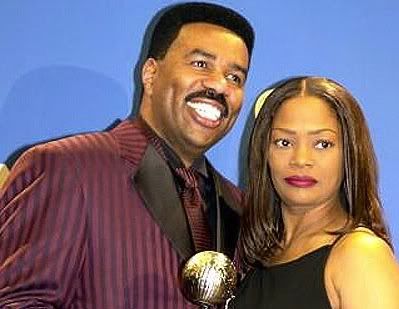 The Steve/Mary Harvey post divorce battle is getting nasty as new contenders enter the ring. Mary's former assistant recently called into "The Ricky Smiley Morning Show" to dish gossip on the former couple and we have the highlights and full interview.
Get the deets inside....
Mary Harvey's former personal assistant of two years, "Jocelyn," called into "The Rickey Smiley Show" to give her two cents. Here's what she said:
On Mary's personality And Steve Taking Their Son Away From Her
Jocelyn said Mary's personality was erratic and unpredictable. She could turn on a dime. And Steve never "took" their son away from her. In fact, Mary had her put their son on a plane in 2008, and only alert Steve of their son's arrival 30 minutes before the plane landed. Steve didn't even know Mary was sending their son to live with him.
On Steve's Success
Jocelyn thinks Mary was jealous of Steve's success and his fame. And that she regrets leaving him because she is no longer in that lifestyle.
On The Divorce Settlement
Jocelyn thinks Mary receives about $40,000 a month; but, this was before the papers were signed.
On The Water Being Turned Off In Mary's Home

She said there was a house where the water was turned off. But it was at ONE of the Harvey homes that the couple didn't live in, as it was being prepared to be sold.
Here's the full audio:
Sigh. Your thoughts?