YBF EXCLUSIVE: Terrence J & Rocsi Dish On Love, Haters & Get FAB For A Promo Shoot
Jan 28 | by _YBF
TheYBF.com exclusively caught up with TV personalities Terrence J and Rocsi of BET's "106 & Park" during a promotional photoshoot the pair shot in New York City.
Come inside to see what the duo have to say about their personal love lives, all the haters (not everyone loves Tasha Mack's new man), and giving back to the community.
Although Terrence J and Rocsi of "106 & Park" enter the living rooms of millions of people every day, we still don't know much about them. TheYBF.com's Kourtney "K-Rich" Richard ran up on the duo recently at a promo photoshoot for their show. And we got some exclusive behind the scenes pics and video of the besties.
As they changed in and out of fab looks from Giuseppe, Intermix, Top Shop, and H&M, we got Terrence to dish on the haters who aren't feeling his role as "Tasha Mack"'s new man on "The Game", Dante, how they both tolerate negativity, and their philanthropic sides.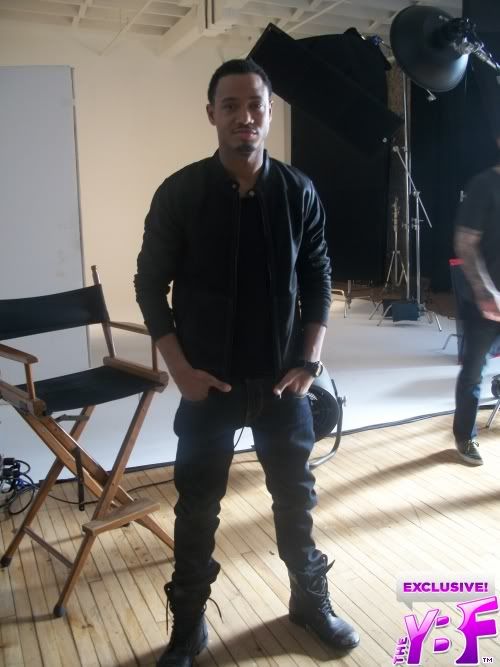 Despite being two of the most attractive correspondents on BET, both Terrence and Rocsi are single. Terrence says, "I'm not dating anybody right now. I'm so focused on my career." And as for those rumors about him dating Brandy...they are "just friends." *eyebrow raised*
And about those few people who aren't feeling his role replacing Rick Fox on "The Game", he says he doesn't hear or see them. People have been calling him "corny" for years and also said "106 & Park" wouldn't last. And he proved them wrong then.
Meanwhile, Rocsi does find the time to date, but says she's in the midst of a "drought" and hasn't been able to find "the right one."
Outside of "106 & Park," Rocsi and Terrence are heavily involved in giving back to the community through charity.
Rocsi tells us:
"I have been dealing with my philanthropic side. Everybody knows RocStarRebuilds.org is my main passion. I'm always about giving back. I'm in talks of doing a charter school (in New Orleans) hopefully with an art and business program."
And Terrence has been raising money for the people of Haiti with Wyclef Jean. He spoke on his Haiti rebuild efforst saying:
"I feel that when you are in a position with a voice or a position of power I think it's imperative that you give back. And the Haitian community really touched a nerve in me."
Watch our exclusive behind-the-scenes footage above of the twosome's "106 & Park" photoshoot. And check out our photo gallery below for the first pics from their upcoming "106 & Park" promo shoot.
Correspondent & Editor: Kourtney Richard
Videographer: Philip Byron