Chad Ocho Cinco's Having A Baby....With A Chick Who ISN'T Evelyn?!
Feb 15 | by Natasha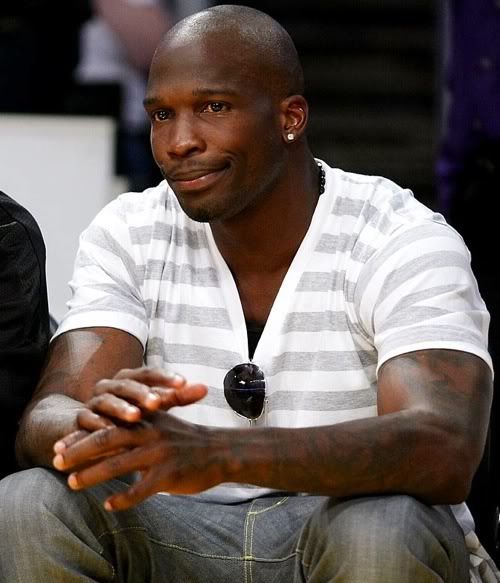 It's about that time. Time for the sidechicks to start talking. Now that Chad Ocho Cinco is all over the place flaunting his new fiance Evelyn Lozada, a chick in Philly is claiming she is pregnant with his baby. Hmmm.
Read on for the deets and what Chad has to say about it when you read on...
And here we go....
Bengals baller Chad Ocho Cinco and "Basketball Wife" star Evelyn Lozada started dating several months ago and quickly became engaged. But while they're roaming round the country hitting up parties and such and snapping coupley pics everywhere--a chick in Philly says don't believe the hype.
Chad and Evelyn lying for attention? NO....IMPOSSIBLE!
Anywho, the woman's name is Page and she claims she and Chad have actually been dating for a while now. She says Chad has told her several times he is only "dating" Evelyn for money. And Page even calls him on 3-way...while she was being interviewed by Miss Jones on her Philly radio show just this morning...and gets him to admit that very tidbit saying, "I told you...I'm doing that for money." Apparently that audio will be released soon.
And it gets better. Page says she's 3 months pregnant with Chad's baby. Check out this messy ish Richmond radio personality TT Torrez learned from Jonesy herself after the interview:
Page revealed on Jonesy show that she's 3 months pregnant and that she is moving in with Chad soon. According to Jonesy, Chad has been trying to get her to move in with him for quite some time. When she 1st called the show she said she wasn't sleeping with him but some enemy/old girlfriend of hers called Jonesy and told her that Page was lying! She said Page is pregnant with Ochocinco's baby and was going to have an abortion. Page then confirmed that she didn't have the abortion and the call from the "frienemy" was proof.

And here's another tidbit…Chad actually spent this Valentine's Day weekend with Page. They were spotted in King of Prussia mall together and one of the Power 99's listeners got a autograph from Chad.
Chad took to Twitter today to call TT "dumb" for allegedly believing everything she hears. But if the audio does, in fact, turn up....
A baller possibly cheating and/or doing thirsty ish like dating a reality chick for money and publicity? Well that wouldn't be much of a shocker.
We're not sure who to believe, but in about 7 months, we can cue the Maury Povich music to find out what's really hood.