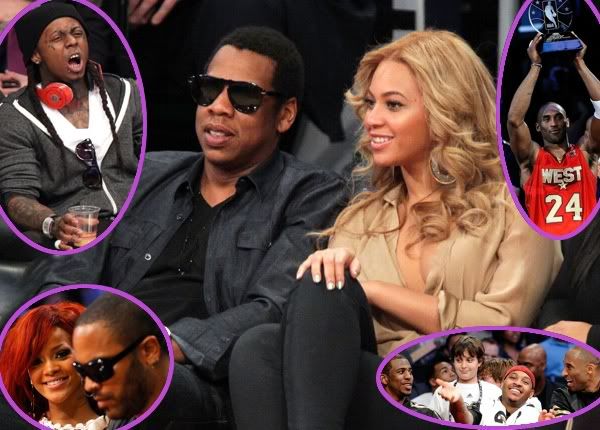 The stars collided at tonight's 2011 All-Star game in L.A. The top NBA stars and loads of Hollywood stars took in the flashing lights at the Staples Center. Beyonce, Jay-Z, Lil Wayne, Lenny Kravitz, Rihanna, Drake, and more watched Kobe, Lebron, Carmelo, and everybody in between duke it out.
And we've got the pics of which celebs were lucky enough to nab courtside seats when you read on...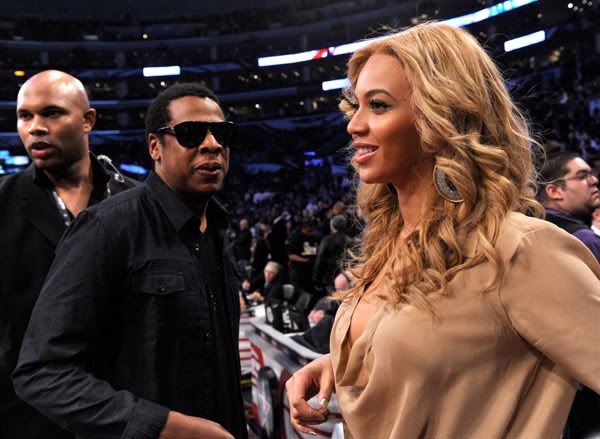 Beyonce Knowles kicked it courtside cuddled up with her hubby Jay-Z.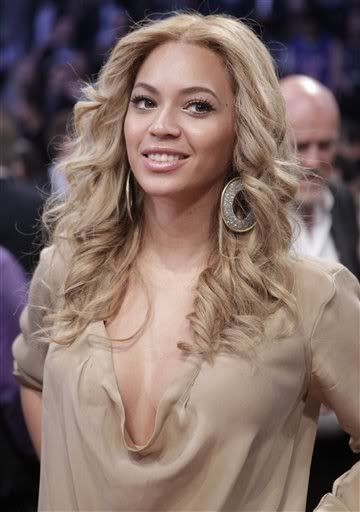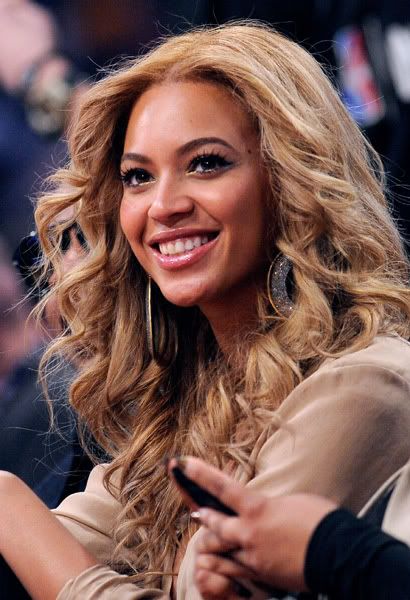 And she looked fresh faced and fab as usual.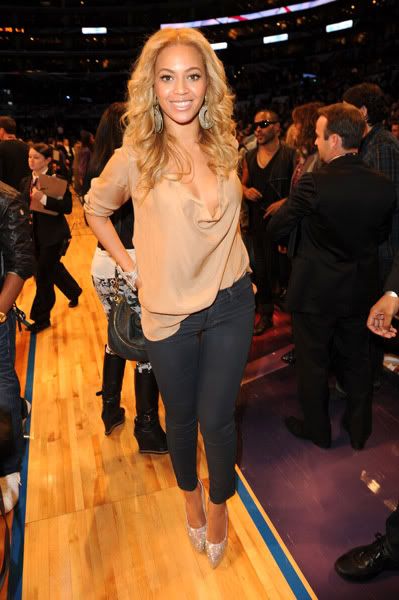 Loving this look for Bey...grown and casually sexy.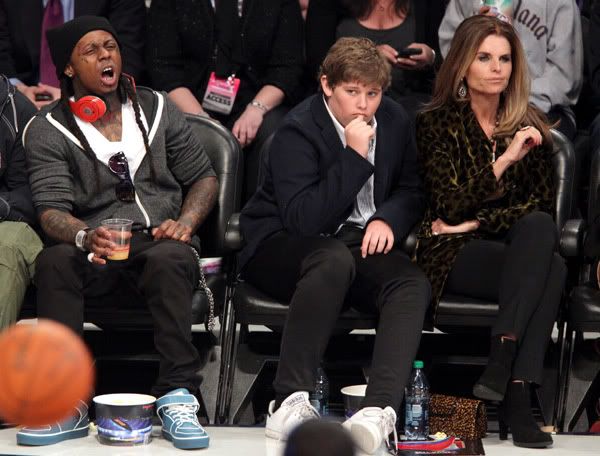 Sports fanatic Lil Wayne hit the sidelines to take in the game and root for his hometeam fave Hornet Chris Paul and support his homie Drake during his halftime performance with Rihanna. Meanwhile he sat next to former First Lady of California Maria Shriver.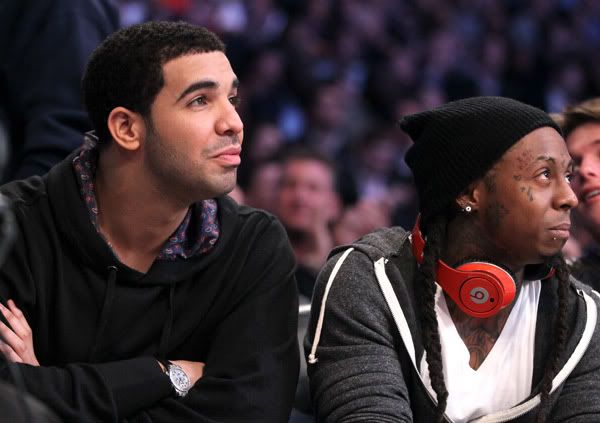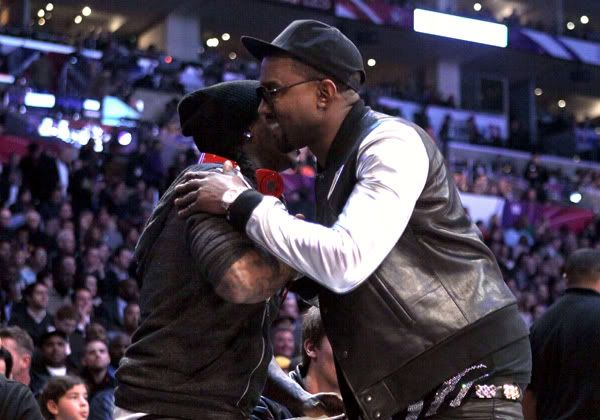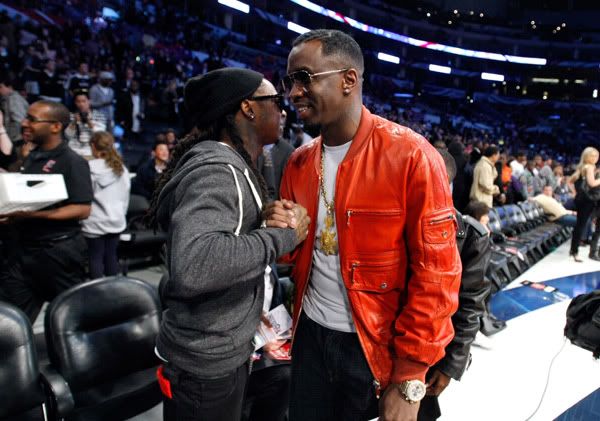 And both Kanye and Diddy stopped by Weezy's seat to say wassup.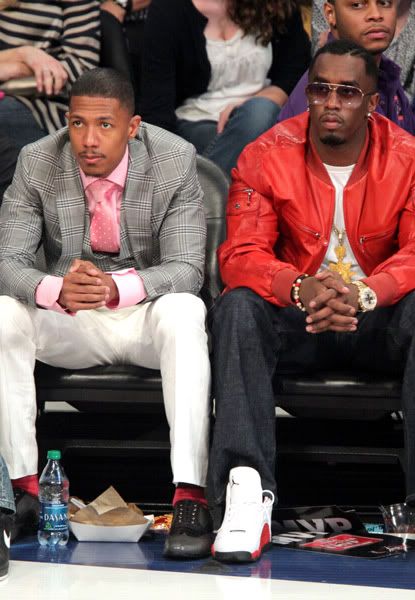 Alright Mr. Cannon with the spring colors workin'. Me likey.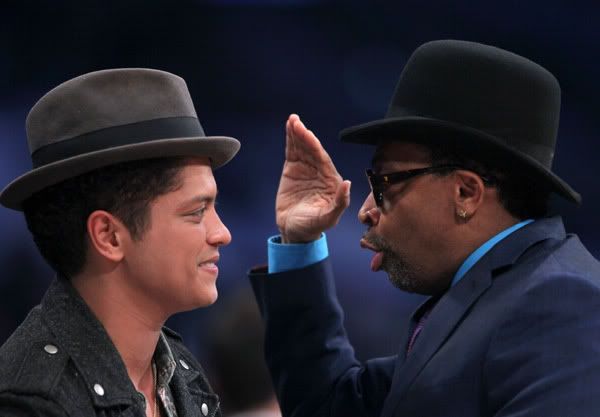 Was Spike trying to measure who was tallest between himself and Bruno Mars?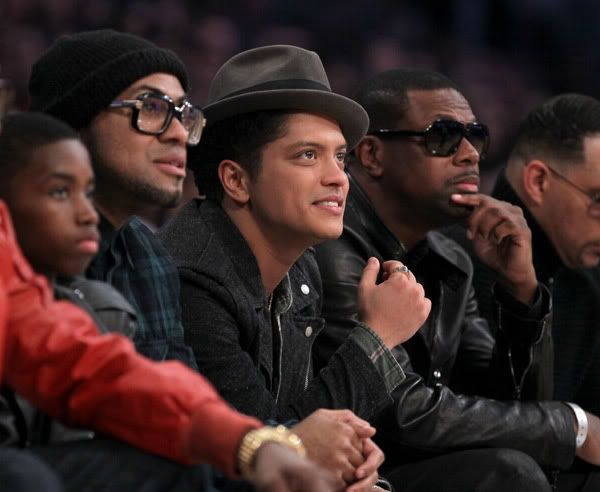 Speaking of Bruno, he kicked it with Chris Tucker on the sidelines. Chris stays courtside and front row at something doesn't he?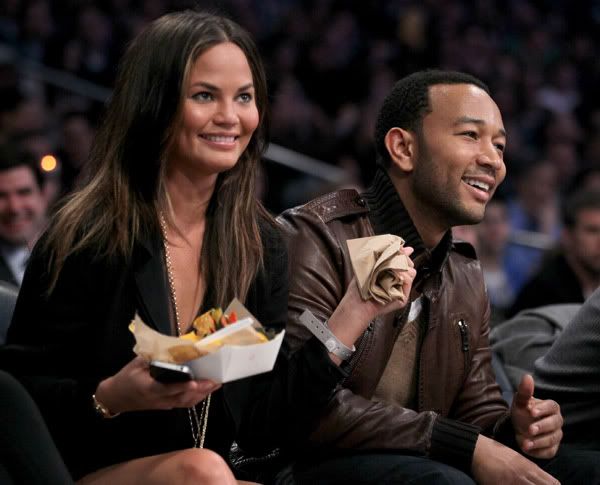 John Legend and his girl Christine snacked courtside.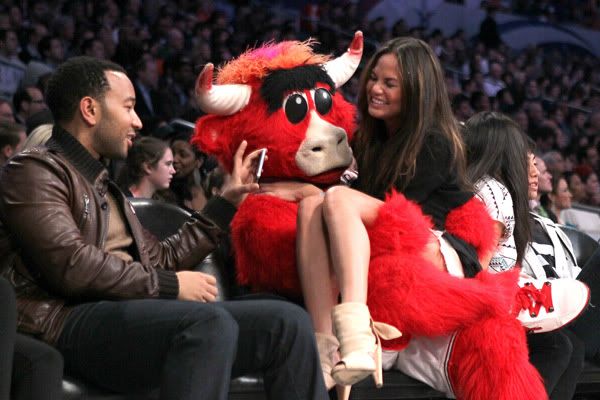 Until Johnny boy got his girl snatched by the Bulls mascot.
After her halftime performance, Rih Rih sat courtside with hr bestie Melissa and gotgoogly eyes from Justin Bieber: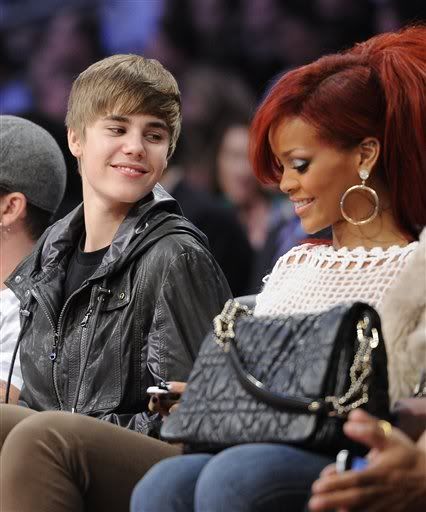 Too funny.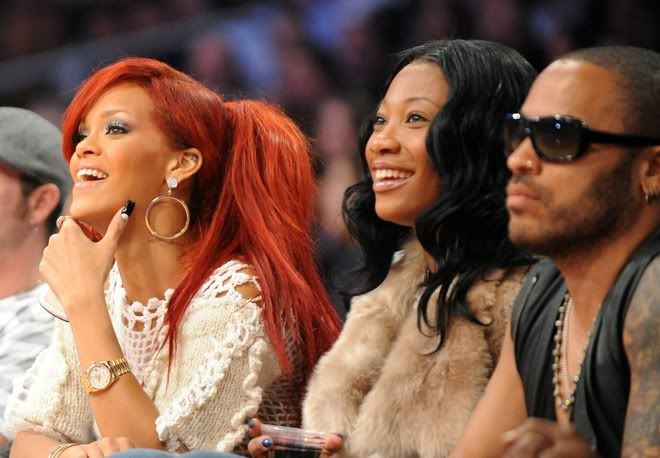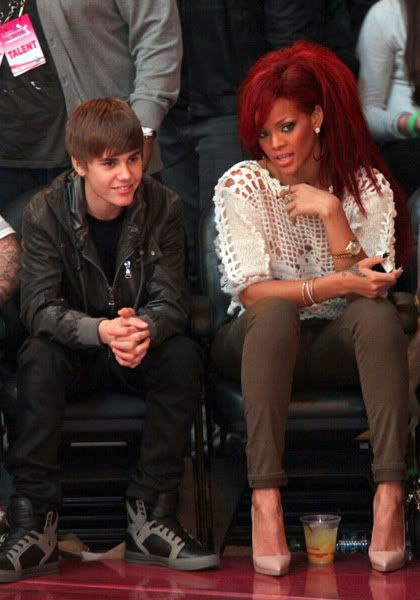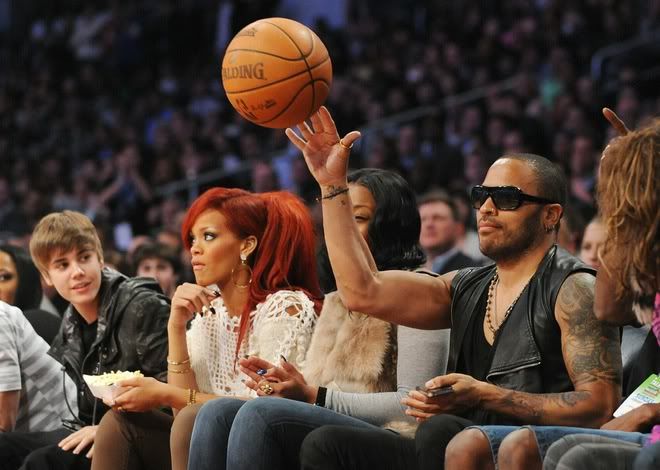 Heeey Lenny Kravitz.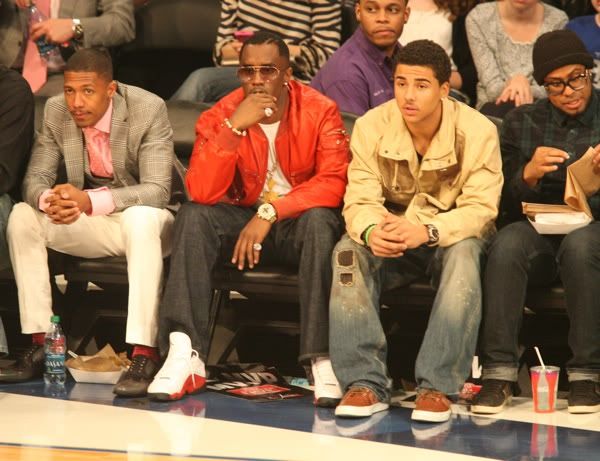 Diddy brought his sons Quincy and Christian (not pictured) along.
Bey and Jay chowed down next to cousin Angie and Ty Ty. Triple platform sparkly Luboutins pumps...not mad.
Rih clearly enjoyed herself.
And the celebs weren't the only ones who enjoyed themselves during the game: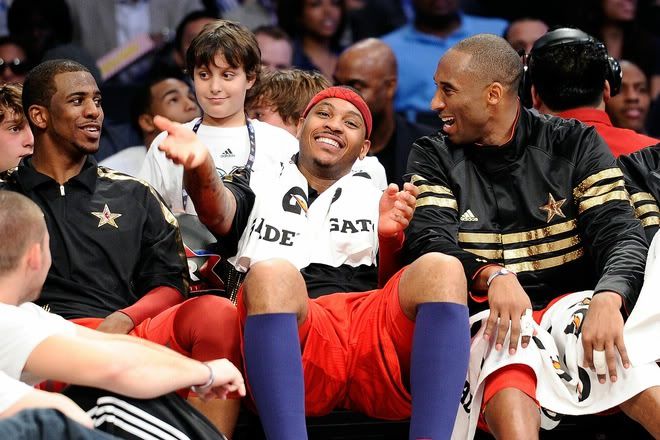 Chris Paul, Carmelo Anthony, and Kobe Bryant got silly while resting on the bench.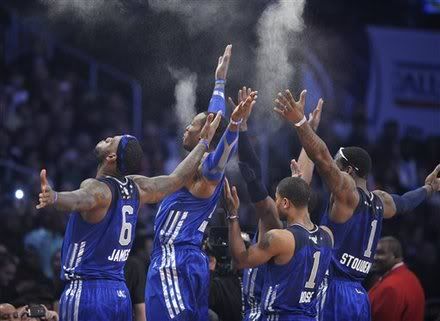 Lebron influenced the rest of his East teammates to engage in his usual pre-game ritual of throwing powder in the air.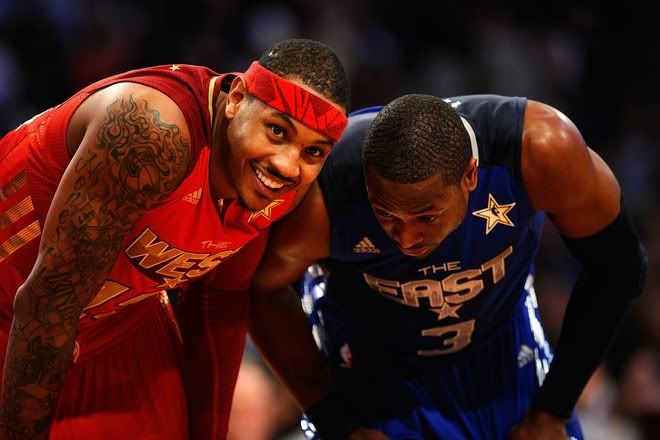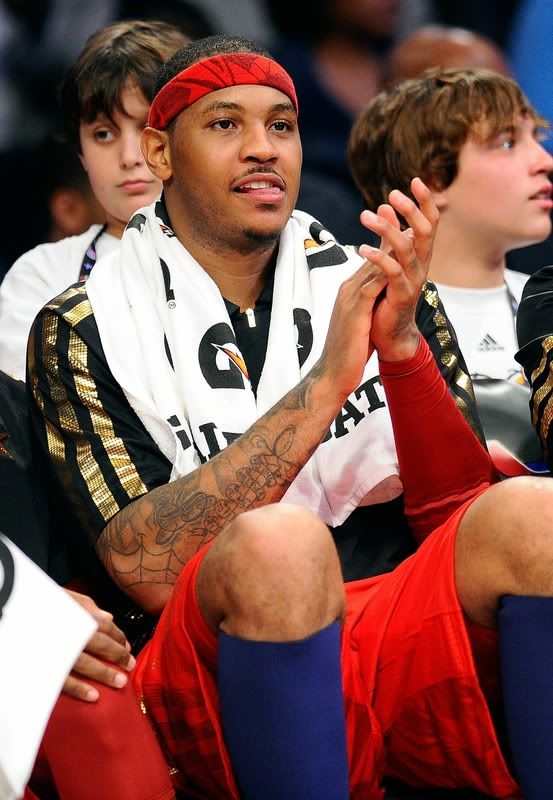 Hey Melo!
Kobe Bryant--captain of Team West--copped his 4th MVP award of the All-Star games. And the West won of course, 148-143.