HERE WE GO: Chris Bosh's Baby Mama--And Alleged STALKER--Allison Mathis Tapped For Season 3 Of "Basketball Wives"!
Feb 22 | by Natasha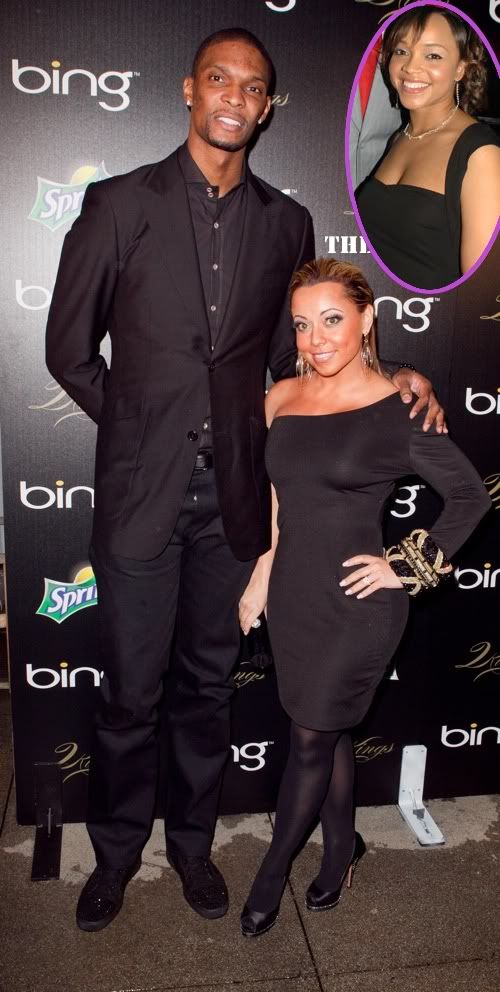 If you thought Shaunie O'Neal and co. were stopping at 2 seasons of the "Thirsty Basketball Wives"...think again. Evelyn, Royce, Jennifer, Tami and possibly Laura Govan are headed back for more...with an extra "wife" in tow.
Read on for deets on NBA baller Chris Bosh's baby mama--yeah, the one who he had a restraining order against and claimed stalked him--joining the foolery when you read on...
News hit last week that "Basketball Wife" co-star Suzy didn't plan on returning for another season. She just couldn't get used to all the attention she claimed.
So they've already got a fill-n on deck...Miami Heat star Chris Bosh's ex girlfriend and baby mama Allison Mathis (pictired in inset pic).
While it's not 100% certain that she's taking Suzy's place, there's whispers she may be giving Royce Reed--Dwight Howard's baby mama--the boot. According to TMZ:
Sources close to the production tell us ... Allison completed three rounds of interviews with show execs recently and was so impressive ... producers will be offering her a spot on Season 3.

Allison brings a fair share of drama to the show -- she had a public legal battle with Chris over paternity payments for their son back in 2009.
Sigh. I already know where this ish is going. Now that Jennifer Williams is int he midst of a divorce, NONE of these chicks are actually married to any ballers. So I guess Allison fits right in.
I wonder what Chris' current fiance Adrienne thinks about this ish. Let the games begin....
The Randomness:
1. Did this lady go to jail fightin' over some Girl Scout Thin Mints?! LOL! Story