MAGAZINE FAB: Aretha Franklin Covers "JET" And Talks Weight Loss + Waka Flocka's $100,000 Muppet Chain
Mar 01 | by _YBF
The "new" Aretha Franklin covers the latest issue of JET Magazine and we have the "pretty in pink" cover inside. Come inside to find out how much weight Aretha lost and to see what $100,000 got Waka Flocka at the jewelry store.
"It's a brand new chapter in my life," says Aretha Franklin in the latest issue of JET magazine. "It's a brand new me - I am still the same but with some changes."
The Queen of Soul tells the magazine that she lost 25 pounds. (Pause for blank stare)
We celebrate Aretha's health and her weight loss; however, we think it may be a bit more than 25 pounds. And however she lost the weight (e.g. lap band, gastric bypass) she should be proud of herself for taking charge of her situation. It's really none of our business, but of course we will let you know if we hear anything.
And in today's foolywang...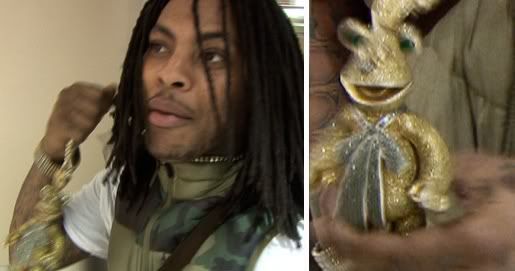 Waka Flocka is proud to announce that he just spent $100,000 on a Fozzie Bear Muppet chain.
The PETA spokesman, who got his nickname from Fozzie Bear's "wocka wocka wocka" phrase, recently debuted the chain on a photo posted to TMZ.
SMH...
I hope this is from his "play" money account and there are several others dedicated to savings and investments.