PREVIEWS: Rihanna Talks Black People & Her Birthday With "Chelsea"+NEW "Put It In A Love Song" Video Preview
Mar 10 | by Natasha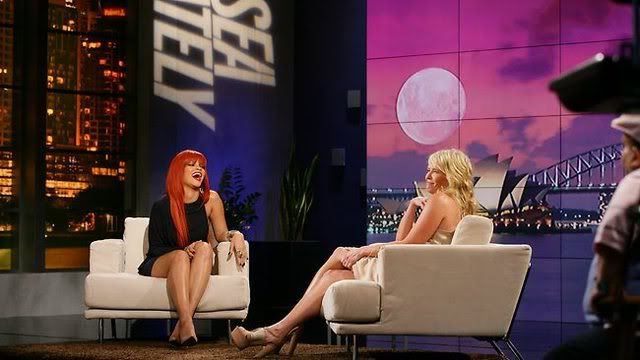 Rude gal Rihanna stopped by "Chelsea Lately" as the show films in Sydney, Australia this week. We've got a sneak preview of her appearance on the show, plus a new sneak peek of Alicia Keys' and Beyonce's "Put It In A Love Song" vid, when you read on...
RIhanna brought her Last Girl On Earth tour to Sydney this week. And since funny girl Chelsea Handler is filming "Chelsea Lately" there this week, Rih Rih had to stop by. She dished to Chels about the lack of black folks in Australia saying:
"I look around at my concerts and there is like one or two. It is a rare thing and these people can be very black, too. They are very beautiful, very special."
I wonder if she's speaking of the Aborigines. Oh Rih...
And the girls talked about Rihanna's 23rd birthday weeks ago that Chelsea was invited to, but didn't even get the chance to see the birthday girl:
"We personally requested you and Chuy to be there. And you both came but you came so early in the night, I was still upstairs painting my face on so I missed you," Rihanna said.

Handler returned, saying that she thought it would be an intimate event, but she was taken aback when she learned that hundreds of people showed up.

She said, "The personal request was interesting because apparently you requested 15,000 other people to show up as well."

"It was supposed to be only 250 people and 600 people showed up," Rihanna said. "We just kinda let everybody in. It was just a fun night."
The Rihanna episode will air tonight at 11 p.m. ET.
And oddly, another new sneak peek of Alicia and Beyonce's "Put It In A Love Song" just hit the net. The vid was supposed to come out this time last year, but Alicia's label decided to can it in place of "Unthinkable". So no word if this is actually a "new" preview, or if it was done a while ago and is just now leaking.
Keep hope alive....
The Randomness:
1. Miss Lawrence of "RHOA" has just been cast on BET Centric's "The Steve Harvey Project" as the entertainment segment host. Oh goodness... Story