Royce Reed Sex'd Up In New Lingerie Shoot+"Basketball Wives 2" Reunion Sneak Peek
Mar 11 | by Natasha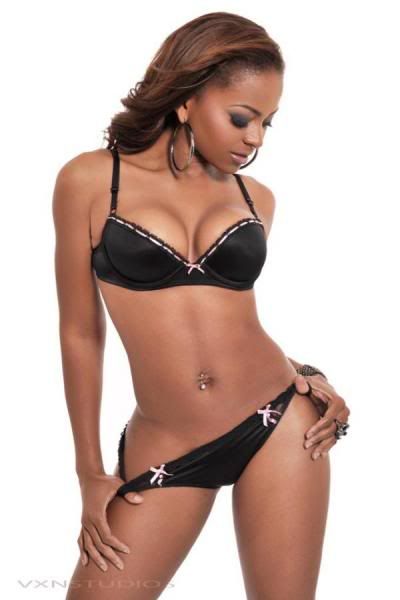 "Basketball Wife" co-star Royce Reed just rocked a brand new photoshoot where she finally looks older than a 12 year old girl. Check out her sexy black lingerie shoot, plus a sneak peek at the "Basketball Wives" season 2 finale, when you read on...
The mother/dancer/author snapped pics in a girlie black bra and black panties and black pumps. And when one of her twitter followers asked her if she got a boob job, Royce thanked her fabulous bra for making it look that way. While these pics ma have looked trashy if other chicks did it, she has the "baby face" working in her favor to make these pics still flirty and cutesy.
She made the last pic her Twitter profile pic. Hot pics I must say. Lookin' fab Royce.
By the way, VH1 posted a 7:20 preview of the upcoming "Basketball Wives 2" Reunion. Check it:
It will air in two parts: the first on Sunday, March 13 in Basketball Wives' normal time slot of 8/7c, and the second the next night, on Monday, March 14 at 8/7c.
Former NBA champion John Salley is hosting this foolery for some reason. Y'all know my stance on these Basketball non-wives, so I likely won't be watching. Will you?