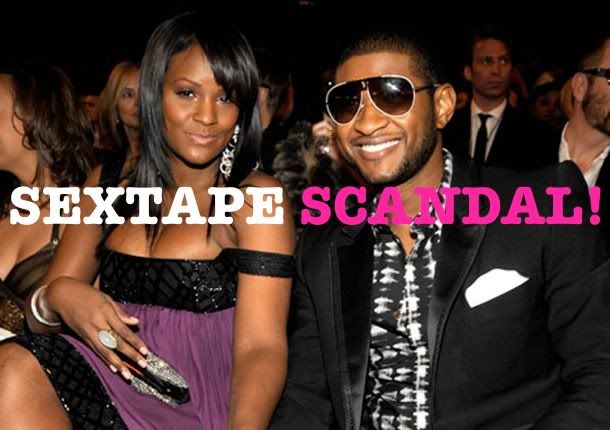 O-M-G! Divorced couple Usher and Tameka Raymond just can't escape each other's clutches. There's a sextape lurking around the net and being shopped to sites as we speak. And it features none other than "OMG" singer Usher and his ex-wife boutique owner Tameka Raymond.
Details on the giving...and taking...that goes down when you read on...
I know I shouldn't be shocked by this, but I kinda am. It seems as though the twosome made their own little home video a while back to spice up their marriage. But now that they're divorced, and Usher's laptop was stolen back in December 2009 (conveniently right after their divorce was final), it looks like somebody else is about to cash in on the Raymond's gifts of giving.
According to TMZ, a clip from a tape and image stills from the recording were shown, and they were asked to put in an offer. The stills and clip are undeniably Usher and Tameka. The site reports:
TMZ was approached several days ago by someone claiming to have the sex tape. The person sent us a short video and two photos. We'll keep this PG-13 and just say ... the people in the video are both givers.

The video and photos are clear -- it's Usher and Tameka.

Sources close to Usher -- without specifically admitting the existence of a sex tape -- tell us they believe this video could have been among the things Usher had stolen out of his car back in December 2009. Usher reported more than $1,000,000 worth of jewelry and electronics taken -- including two laptop computers.
Hopefully this ish doesn't really hit the net because I'm not sure it will necessarily help Usher's career at this point. And their 2 young boys would be traumatized for life.
There are so many "giving" jokes that could be cracked right now. But I'll keep them to myself. Let the games begin....
*UPDATE* Tameka tweeted this about the news: