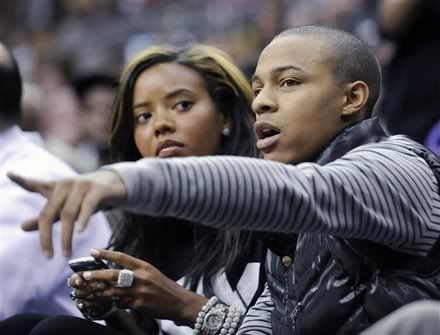 We've been hearing something about a love triangle including Bow Wow and Angela Simmons for months now. And honestly, our head hurts from trying to figure it out and we can't garner up enough energy to care enough to figure it out.
All we know is, former sweeties Angela and Bow were spotted hitting up last night's Nets game in Jersey together. Pics and their tweets when you read on...
After getting snapped out and about with cutie Lance Gross recently, Angela Simmons seems to really want that old thing back as she and Bow Wow kicked it courtside at the game last night.
The twosome was even lucky enough to be given the official game ball afterwards and twitpic'd the occasion. Well isn't that...special.
Bow Tweeted about Angela making him late to the game....you know, the typical ish a man playfully complains about with his woman.
BONUS: Bow Wow and his goof friend Chris Brown twitpic'd their post-game St. Patty's Day fun at Greenhouse in NYC last night.
Chris was in town promo'ing his upcoming F.A.M.E. album. Fun times.