DOCUMENTS REVEALED: Is Mister Cee Still Sticking To His Story Of Denial?
Apr 05 | by Natasha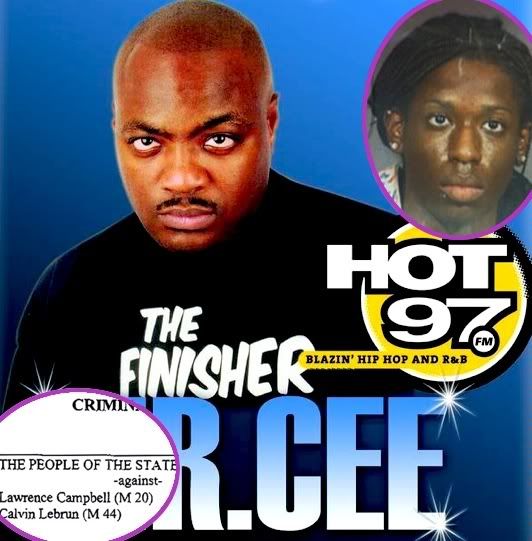 If Mister Cee is still denying these "rumors" of his arrest after allegedly getting caught sexing an alleged transgendered person, Lawrence Campbell, he may want to check the police report.
The details of the night in question, last Wednesday, have been revealed in the official police report that leaked online. The report and the explicit details from that night, when you read on....
Mister Cee and his Hot 97 crew have denied any truth to this story. While the NY Daily News reported Cee has been arrested for loitering with purposes of prostitution twice before. Now, The Smoking Gun has released the official police report detailing Calvin Lebrun/Mr. Cee's arrest:
4AM....an exposed erect penis....in a parked car in a dark alley....lips of a man dressed like a woman moving up and down in an "oral sex" motion on said erect penis. If it walks like a duck...
The 44 year old NY DJ Mister Cee was charged with lewdness and exposure of a person. Both Lawrence and Calvin/Mister Cee are due back in court June 1st.
Meanwhile, Funkmaster Flex and the Hot 97 crew have been trading shots with their rivals over at Power 105--mainly The Breakfast Club. Apparently Cee, Flex, and the Hot 97 crew don't appreciate all the ish talking from the other building. Peep the threats both sent out above.
Just to be clear--the issue here is not Mister Cee's apparent preferences in sexual partners . The issue is the illegal (and frankly lame ish like gettin' it poppin' in cars when you're over the age of 40 with prostitutes) acts that went down and the fact Cee is calling media and others the liars in this situation. Like Charlemagne said, just move better dude.
Speaking of lying, despite Mister Cee supposedly saying @Real_MisterCee is a fake account, we find it interesting that his #1 defender in all of this--DJ Funkmaster Flex--is following that account. So are several rappers who are personal and long time friends of Cee--like Busta Rhymes. The account is still active. Just sayin'...