MUSIC FAB: Alicia Keys Releasing 10 Year Anniversary Album + Rihanna's "Man Down (Remix)" Ft. Eve
Apr 12 | by _YBF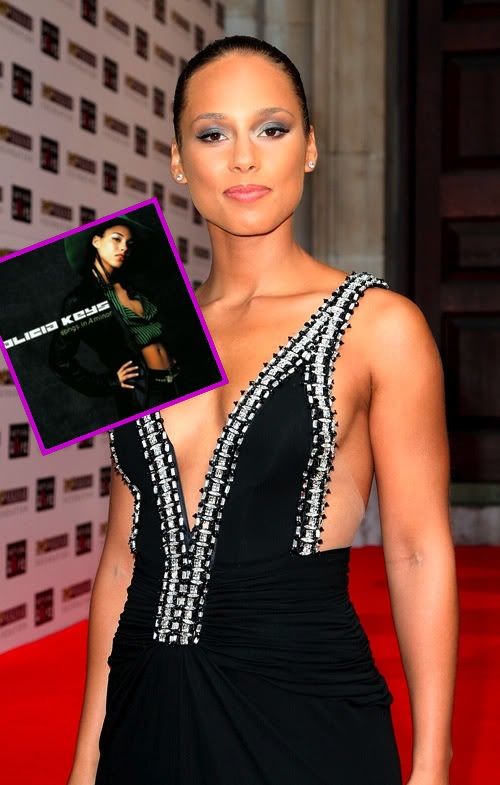 Alicia Keys has announced that she will release a special 10-year anniversary disc of her phenomenal debut LP Songs In A Minor. Get the deets on the release inside, and hear Rihanna's new "Man Down (Remix)" track featuring Eve.....
It's hard to believe it's been ten years since Mrs. Keys-Beatz appeared on the scene. And to celebrate her decade in the game, the actress, philatnthropist, singer, songwriter and producer will release a special 10th Anniversary Deluxe and Collector's edition of Songs In A Minor.
The original album, which sold 12 million copies and earned Alicia five Grammys, will be re-released with previously unreleased and original bonus material, such as "A Woman's Worth" remix featuring Nas, mixtape version of "Juiciest" ; "Fallin" the Ali soundtrack version; and the previously unreleased "Typewriter," "If I Was Your Woman" Original Funky Demo version and "Butterflyz (The Drumline Mix)."
Sidenote: Butterflyz is still one of my fave A-Keys songs, so I love that she's putting out the even more sensual version featured in the Drumline movie.
The Deluxe Edition two-disc set and Collector's Edition three-disc set will feature very special packaging and an enhanced booklet featuring new liner notes from Alicia and a documentary, specifically created for this release with brand new interviews with the singer and other album collaborators.
Talking about the disc, Alicia said:
"It's incredibly surreal for me to be celebrating the 10th anniversary of songs in A minor," says Keys. "Looking back on the journey, I'm truly moved by my fans and friends who've been with me and have supported me throughout my career. This album is possibly the most precious to me, as your first album only happens once, and so songs in A minor will always hold a special place in my life that's filled with amazing memories. I'm so proud that the songs are still being enjoyed around the world, and I'm crazy excited to share, through the 10th Anniversary Edition, songs never heard before, and even more of my debut album with you."

Alicia plans to commemorate the 10th Anniversary by performing an intimate concert for her fans at New York City's historic Beacon Theatre on June 30th. The show, titled "Piano & I: A One Night Only Event With Alicia Keys," will feature Alicia performing solo with her piano. She will tell stories and sing her classics. Tickets for the show will go on sale on May 6th via Ticket Master.
Also, she will perform on the BET Awards on June 26th and an hour-long special on Alicia will air on the network in late June around the album release.
Somebody's going to be a busy mama this summer.
And Rihanna has released the "Man Down" track from her LOUD album and Philly's finest, Eve, hopped on the track. It may not be an official version, but worth the listen anyway.
Listen to Rihanna's "Man Down" (Remix) Ft. Eve above.