WHAT'S BEEF: Tyler Perry Says 'Spike Can Go Straight to Hell!'
Apr 20 | by _YBF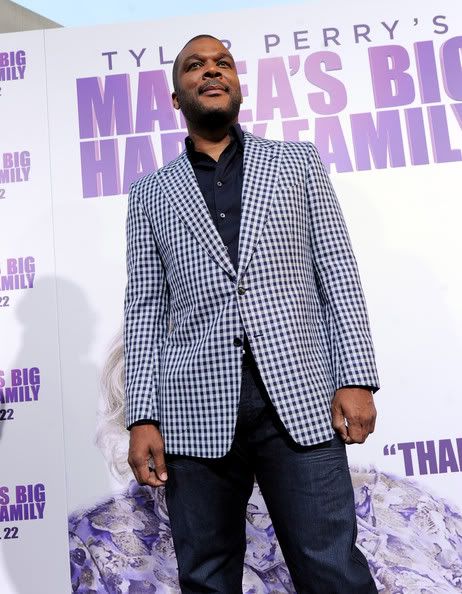 Though he was dressed in a suit for the press conference, Tyler Perry's alter-ego "Madea" must have taken over recently when he put the verbal smack-down on -ish talking director Spike Lee.
Fed up with negative comments about his films, Tyler popped off to the media saying, "Spike can go straight to hell!" Deets and audio inside...
While Tyler Perry is out promoting Madea's Big Happy Family, someone made a comment about fellow director Spike Lee, and it set the director off. You may recall that Spike has been known to make a few negative comments about the "quality" of Tyler's films and so far....Tyler has stayed about the fray. But not anymore. Tyler told media earlier this week:
"I'm so sick of hearing about damn Spike Lee. Spike can go straight to hell! I am sick of him talking about me. I am sick of him saying, 'This is a coon, this is a buffoon.' I am sick of him talking about black people going to see movies. This is what he said: 'You vote by what you see' — as if black people don't know what they want to see.

"I am sick of him. He talked about Whoopi, he talked about Oprah, he talked about me, he talked about Clint Eastwood. Spike needs to shut the hell up!"

"I don't even understand it. There [are] so many people who walk around, and this is where the whole Spike Lee [issue] comes from — the negativity, 'This is Stepin Fetchit,' 'This is coonery,' 'This is buffoonery' — and they try to get people to get on this bandwagon with them, to get this mob mentality to come against what I'm doing."
Hmm....I think Tyler may have a point. I imagine every celebrity could potentially make a negative comment about another (we all have our opinions), but is Spike feeding intot he inevitable act of media pitting successful black celebrities against each other?
Tyler made an interesting point at the same conference saying:
"What they don't understand is this, and this is what I want to make perfectly clear to everybody, especially black people: I've never seen Jewish people attack Seinfeld and say, 'This is a stereotype.' I've never seen Italian people attack The Sopranos, I've never seen Jewish people complaining about Mrs. Doubtfire or Dustin Hoffman and what they were doing in Tootsie. I never saw it. It's always black people, and this is something that I cannot undo."
Now this isn't completely true....as we have seen the Italian community attack MTV for the "Jersey Shore" and "The Sopranos," but I see his point.

Tyler makes positive (generally speaking) movies and employs MANY MANY black actors and actresses and others behind the scenes. Do we we gain something culturally from publicly tearing him down? Whether you think his movies are coon-ish or not, would you say on some level he is adding more to the culture that he's taking from it? Speak on it.
Listen to the audio here:
Check out pics from the big Madea Hollywood premiere last night HERE if you missed it.