Chris Bosh SUES Baby Mama Allison Mathis For Appearing On "Basketball Wives"
May 03 | by Natasha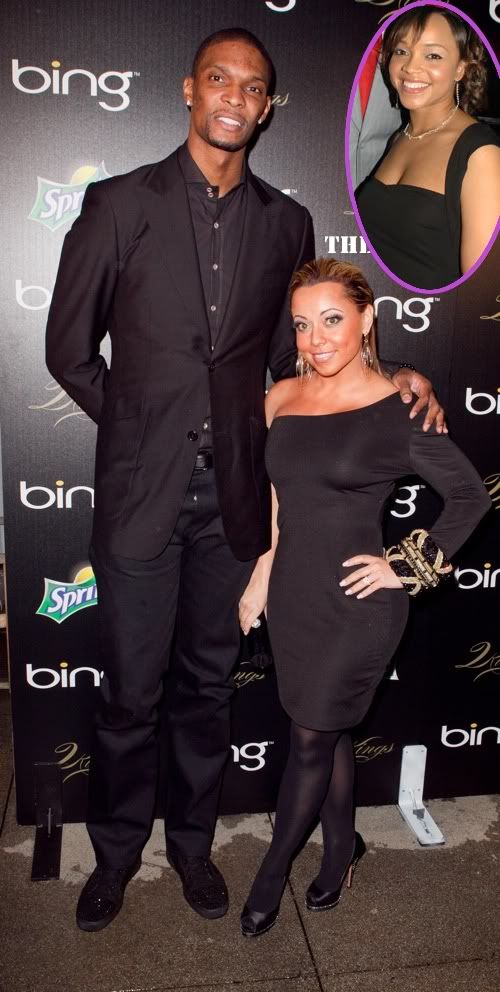 Back in February, Miami Heat star Chris Bosh got wind of the rumor that his ex and baby mama, Allison Mathis, was being tapped for Season 3 of "Basketball Wives" and he was extra pissy. And his nightmare just came true. The show premieres , and Chris' lawyers have already unleashed lawsuits against Allison.
Deets when you read on....
The third season of Basketball Wives" kicks off May 30th. And Chris is already making legal moves to make sure his baby mama Allison doesn't get any airtime. He says she's using their son and his name to "enrich" herself. So he just filed papers to stop the foolery.
The Associated Press reports:
Miami Heat star Chris Bosh is suing the mother of his child for appearing on a reality TV show called "Basketball Wives," which he said intrudes on his private life. Bosh claimed in a lawsuit filed Monday in Los Angeles federal court that Allison Mathis and Shed Media are trying to unjustly enrich themselves by using Bosh's name and intruding into his private affairs.

He acknowledges he and Mathis have a child together. The suit said Mathis was hired to appear in the third season of the VH1 reality show and wants to use it to become a TV star.

He seeks damages and an injunction to block her and the media company from trademark infringement by using his name and disclosing private facts about his life.
O lawd! She better take some notes from her fellow cast member Royce Reed. Because this is exactly how Dwight Howard started off with her. And now look, she's getting sued for money she wouldn't even make in a lifetime. One day they'll learn....
On a sidenote, a little birdie told us that even though Chris and his "fiancee'" Adrienne Williams are technically already married on paper, their wedding actually isn't until this summer.