COURTSIDE FAB: Lil' Wayne, Drake & Serena Williams At The Celtics Vs. Heat Game
May 04 | by _YBF
YBF celebs are in an NBA frenzy. Whether it's L.A. with the Lakers or Miami with the Heat, they're living on the sidelines these days. And when the Boston Celtics took on the Miami Heat last nigh tin Game 2, Drake, Lil' Wayne and Serena Williams were courtside. See the pics inside...
Last night, the Boston Celtics took on the Miami Heat (and lost). The Heat took the victory for Game 2 and now lead the series 2-0 with a (102-91) win. And look who they had cheering them on.....
The bearded rapper Drake was there looking grown and sexy.
Drizzy sat courtside with his homie Lil' Wayne at the game.
Weezy is all over the radio right now on Jennifer Lopez's track "I'm Into You."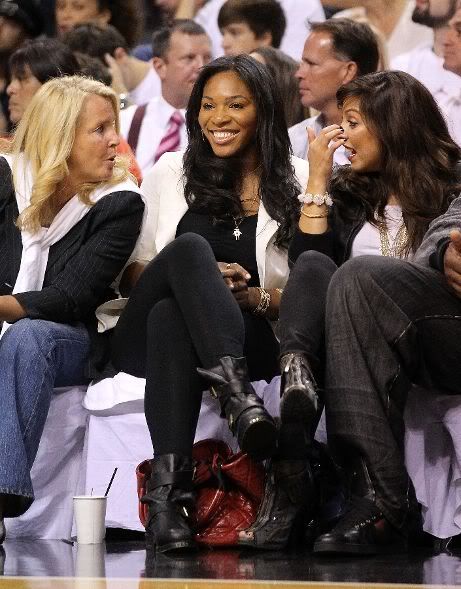 Serena Williams was also at the game looking fabulous. Fun times all around...

Photos via Wire
The Randomness:
1. "ATL Housewife" Kim Zolciak has snapped yet another awkward nude pregnancy pic with her boyfriend Kroy. Story