REVEALED! Beyonce, Michael Jordan, Halle, Madonna, Patti Labelle, Queen Latifah, & MANY More Surprise Oprah For Last Shows
May 17 | by _YBF
Details are leaking about Oprah's final shows set to air on Monday and Tuesday of next week. Get a sneak peek and spoilers inside....
Oprah's final shows are set to be filled with tons of surprises, even though the Queen of Talk is said to hate surprises. But this final week....she allowed her producers control over what happens and we are going to go along with her for the ride. She is currently taping two shows at the United Center in Chicago, set to air Monday and Tuesday. Her final show airs on the 25th.
So what can we expect? Of course details are sketchy, but based on various sources and tweets coming directly from The United Center, we know you can expect a Beyonce performance. Tonight, she surprised Oprah and the crowd and rocked out with her latest single "Run The World (Girls)." Also expect special appearances from Madonna and Patti Labelle.
And who else can you expect? Here's a quick rundown of celebs spotted in the audience, on stage, and seen arriving at Chicago area hotels: Tom Hanks and wife Rita Wilson, Rosie O'Donnell, Will Smith, Jada Pinkett, Tom Cruise and Katie Holmes.
Chicago king Michael Jordan made an appearance. As did Jamie Foxx (who I'm sure still has a major crush on Lady O). And Stevie Wonder sang "Isn't She Lovely."
Also spotted in town were Gayle King, Emmitt Smith, Usher, Queen Latifah, Julia Roberts, Jen Aniston, Madonna, Stevie Wonder, Alicia Keys, Halle Berry, Rascal Flatts, Dakota Fanning, Tyler Perry, Dave Chappelle, U2 and John Travolta.

Will & Jada, Michael Jordan, Jamie Foxx, Stevie Wonder and Jerry Seinfeld kicked off show #2!
Spoiler pics from inside the tapings: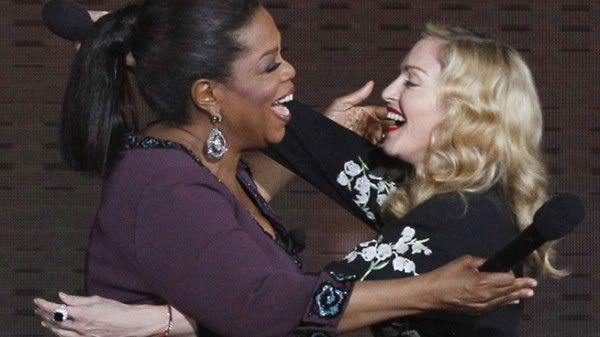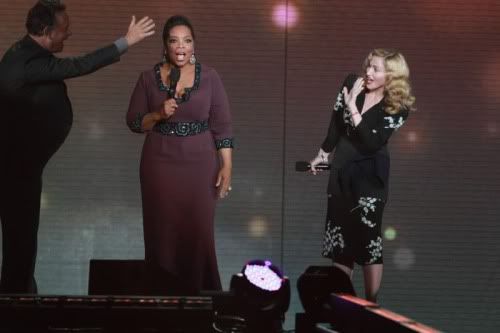 We know Madonna will be there. She told the crowd, "It's no secret millions of people are inspired by Oprah. I am one of those people. She's a self made woman who has been at the top of her game for 25 years and she is still kicking a--, encouraging people to dream big, work hard, to read a book, get an education, ask questions - no matter who you are or where you come from. She fights for things she believes in, even if it makes her unpopular. She has balls and a wealth of compassion. I've learned so much from her."
Along with Dakota Fanning and the Queen Bey. Did she remix her usual leotard to make it a tuxedo leotard? Jay-Z was front row in the audience by the way.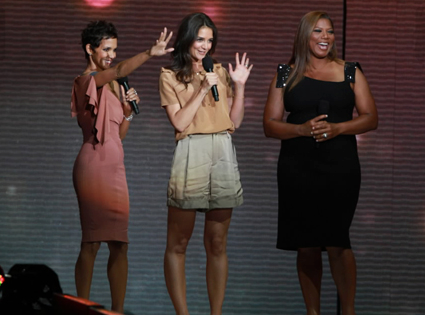 Halle, Katie Holmes, and Queen Latifah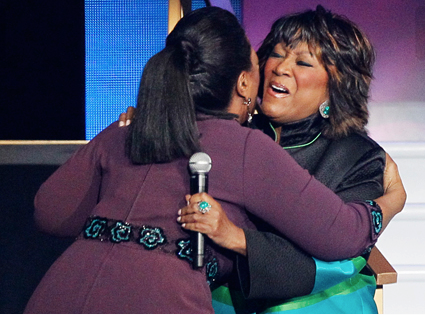 Pattie Labelle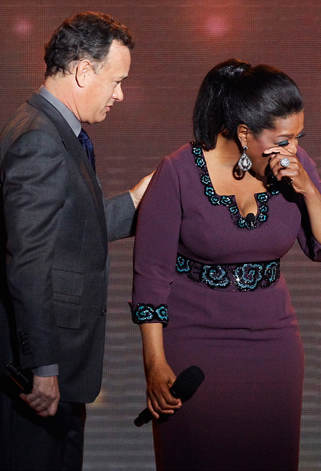 And actor Tom Hanks said, "Today, Oprah Winfrey, you are surrounded by nothin' but love! Your studio just wasn't big enough to hold it all, so here we are."

Can't wait!