BIG MOVE: WNBA Chick Maya Moore Named First Female Face Of The Jordan Brand
May 19 | by Natasha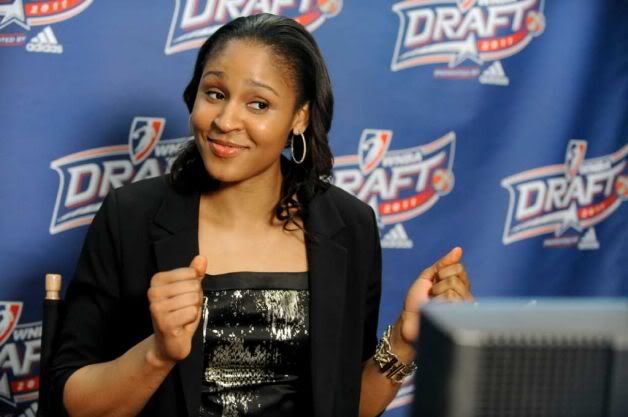 Girl Power! #1 WNBA Draft pick Maya Moore, who was drafted to the Minnesota Lynx last month after playing for her championship college team UCONN, has just been named as the first female to become the face of the Jordan Brand.
She's the first female to sign a deal with the Jordan Brand. So she'll likely be copping her own shoe, own clothing line, and many other sports related deals. And she's a pretty girl who may even dabble into some cosmetics and/or modeling.
NBA legend Michael Jordan's Nike and Jordan Brand family issued a press release today stating:
I am thrilled to welcome Maya Moore into the Jordan Brand. Not only has Maya proven to be a prolific winner on the court, but her hunger and determination to make an impact off the court makes her a valuable addition to the Jordan family. We look forward to working with Maya as she carries her success to the next level.
Maya stated today:
As a student of the game, it is a dream come true to align myself with a brand that has a rich history in sports. Like most kids, I grew up idolizing Michael Jordan and continue to work relentlessly to reach his iconic status on the court. I'm truly motivated to take my career to the next level as a member of Team Jordan.
She's joining the ranks of Michael Jordan himself, Dwyane Wade, Chris Paul, and many others.
Maya is a two-time National Player of the Year, won 2 National Championships with her college team, a world champion gold medalist for the U.S. national team, and has been arguably named one of the best female college ballers of all time. Nice. Congrats to Maya!