DO WE BELIEVE IT?: Did Wizards Baller Rashard Lewis Tap LeBron's Girl Savannah?
Jun 09 | by Natasha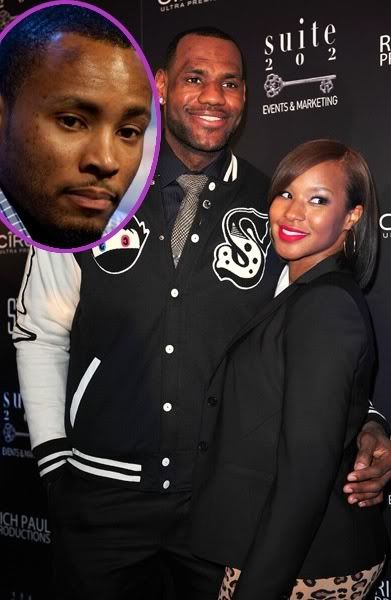 I'm going on the record now saying I don't believe this ish....yet. However, I'm doing my duty of relaying the pressing gossip out here in these innanet streets. At least the gossip that could possibly hold some water.
As it always happens during the NBA Finals, crazy rumors are hitting the streets. And this time, yet another NBA baller has allegedly gotten it in with yet another one of LeBron James' girls. Deets inside....
Reports say Rashard Lewis of the Washington Wizards was allegedly caught getting it in with LeBron James' long-time girlfriend and sons' mother, Savannah Brinson.
Ladies: Here's one reason you'll be able to tolerate watching the game with your man tonight. You never know what info can leak during a game.
Supposedly, LeBron's poor performance the other night in the Heat's loss to the Dallas Mavericks was all due to him finding out Rashard Lewis and his girlfriend Savannah getting it in. Mmhmm...
The folks over at Hello Beautiful say they have a source who claims they know Rashard indeed slept with Savannah recently while he visited South Beach:
Looks like Lebron James lackluster performance in this year's NBA playoffs is related to yet another off the court drama. Word on the street is that Rashard Lewis slept with Lebron's girl Savannah while he was visiting South Beach.

Here's what I found out :

I have a very reliable source who clubs and drinks with all of the athletes that come through Orlando. He was all over the Tiger Woods issue and knew what all happened with Tiger prior to it being released publicly. My buddy has a place in Orlando, Lake Nona to be exact, and he lives among some athletes that live there in Orlando. Needless to say he golfs, drinks, and parties with some of the best people in central Florida. So when word got to him while at the bar last night, he called me. Word got out while drinking with friends, that Rashard Lewis slept with Lebrons girl while visiting South Beach.

ESPN's analyst Stephen A. Smith recently said on his radio show that Bron Bron is going through personal off court issues and that's the reason for his poor play on the final.
Hmmm. Stephen could have been talking about many things honestly. And REALLY--how many unemployed women who are living the life of a come-up with arguably the richest man currently in the NBA would "downgrade cheat"? REALLY? Yes, we know men "downgrade cheat" OFTEN. But is this a different scenario?
At the same time, isn't cheating in the NBA damn near a given these days? Crazier things have happened.
There were rumors of LeBron's mom getting it in with Delonte West (and supposedly caused him to lose the Playoffs last year)--and yes, we believed that ish. Yet, there were recent rumors of a Laker wives love triange we barely paid attention to that supposedly caused kobe and co. to lose in the Playoffs this year. So this could be just another rumor on the NBA Finals grill.
No other hard core facts (or denials) have come out yet. So for now--it's just a rumor. Do we believe it?