FOOLYWANG VIDEO: Bishop Eddie Long Stacks His Paper During Sermon
Jun 14 | by _YBF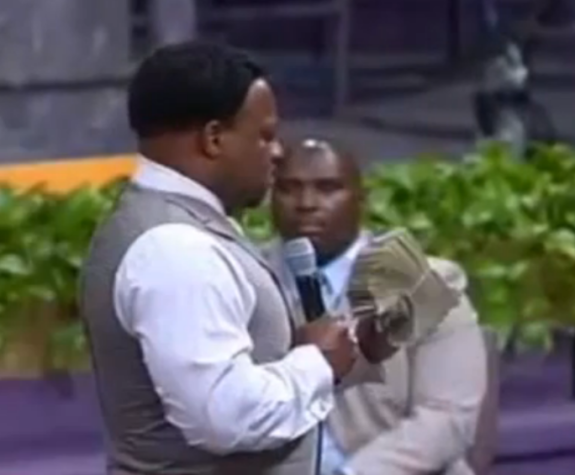 For those followers concerned about Bishop Eddie Long's future, he seems to be doing just fine if this video from Sunday's sermon is any indication. A woman comes out the audience and gives him a stack of money so thick you'd think if came straight from the set of a Lil' Wayne strip club video clip. Watch it inside.....
Call it what you want, but even after he settled his sexual abuse of power case, Bishop Eddie Long knows how to keep that paper stacking. This past Sunday, he was interrupted mid-sermon by a woman who dropped off a huge stack of cash.
He then told the church:
"Manifest! Signs, wonders, and miracles! I couldn't pray for that! That's just the first fruit, I see everybody bringing that to the alter. Quick, fast, in a hurry."
Then all your cousins (yes, YOURS) started cheering and going in their pockets to "bless Pastor." Maybe they felt compelled to help him pay off that alleged $25 million settlement. Either way, from the eye contact he gave the woman as she passed him, it looks like he knew it was coming. So was he trying to spark a trend so others will keep his pockets full in future church services? Where do they bring up stacks of cash to a pastor during his sermon? Or at all, honestly?
Eddie then said, "It might be her day today...but my day coming." (to the audience).
So....my day of celebration is the day I can give you a stack of money? Interesting. Praise be to.....Bishop Long.
Or maybe she was paying her tithes. But if that was her 10%, I'd love to know what she does for a living.
Watch the video here: