SUMMER VACAY: The Obama Ladies Arrive In South Africa!
Jun 20 | by Natasha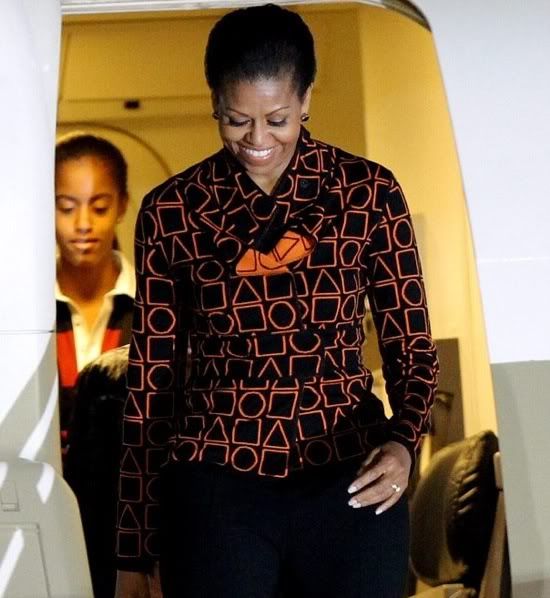 The Obama ladies are kicking off their South African sumer vacay...and of course, there's business involved as well. Diplomatic First Lady Michelle Obama arrived to Pretoria, South Africa today with her daughters Sasha and Malia, her mom Marian Robinson, and nephew, Avery Robinson, 19, and niece, Leslie Robinson, 15 (her brother Craig's children).
We've got pics and deets on how the ladies dressed for the occassion and what's going down on their trip, when you read on....
Awww. Sasha looks like she just woke up from that long plane ride. You know that annoyed look kids get. She and her sister Malia were welcomed at Waterkloof Air Force Base this evening by SOuth African officials and their children. And the First Daughters receieved South African blankets with colors of the nation's flag by young children of the protocol officer as a welcome. (It's winter and 51 degrees there) Sweet!
Michelle rocked an orange and black sweater by designer Duro Olowu who is of African decent, according to the White House.
On the trip Mrs. Obama and her fam are meeting with several women leaders, including South African President Jacob Zuma's wife and Nompumelelo Ntuli-Zuma, Graca Machel, the wife of former South African President Nelson Mandela. She's also set to met with nobel peace prize winner Desmond Tutu.

This is the first lady's fourth trip to the continent of Africa and her first to South Africa. This is her second solo official visit. Next stops: Johannesburg and Cape Town and continuing to Botswana.....