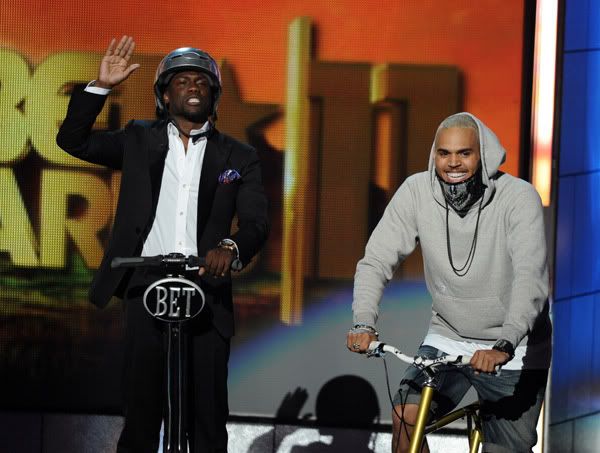 Just in case you haven't had enough BET Awards coverage to hold you over till next year.....The YBF caught up with 2011 host Kevin Hart backstage immediately after his HI-larious stint Sunday night. He dished on what REALLY happened with the whole Chris/Rihanna award mixup, plus all his personal highlights from the night.
That video plus us chopping it up with Keri Hilson, Diggy Simmons, Laz Alonso and more at Debra Lee's BET Awards Dinner inside....
BET's Stephen Hill has since issued a statement of apology for BET messing up the award for Viewer's Choice Sunday night on their end. The extra awkward moment of Fan Tiffany Green having her moment for life in front of 7 million viewers, just to be told something different than what was on her Sprint tablet (you know Sprint is pissy too). She announced Rihanna (due tot he teleprompter), but it was actually Chris Brown who won--which her Sprint tablet said.
Of course, comedian and host of the night Kevin Hart told us backstage just minutes after the show that it was a total mixup. Nothing intentional. And he's also got a crazy long list of work coming up. Loves him.
And Saturday night, we hit the red carpet of Debra Lee's 5th Annual BET Awards dinner in L.A. Diggy Simmons tells us his debut album iis dropping later this year, and we chatted with Keri, Estelle, Laz Alonso, and more....
VIDEO CREDITS: Correspondent Kalia Silva/Videographer Darren Banks