Tia Mowry & Cory Hardrict's Baby's Name REVEALED!
Jun 30 | by Natasha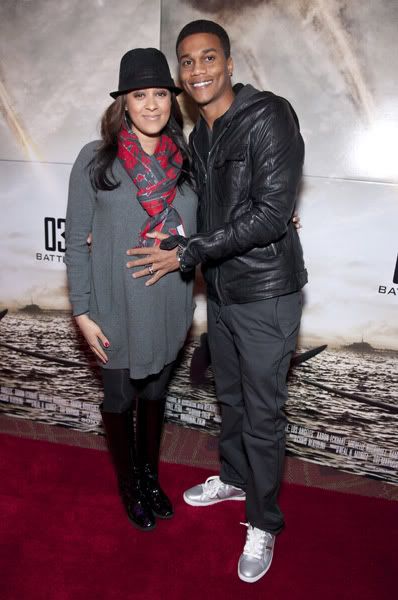 Tia Mowry and Cory Hardrict revelaed to The YBF back in February that their baby boy's name would begin with a C. And they've just released their new bundle of joy's full "C" name!
Hit the jump for the reveal...
Baby boy Cree Taylor Hardrict said HELLO WORLD! Tuesday morning. Mom Tia delivered the couple's 8lbs of baby fabness in L.A. And they're keeping with the first-letter-of-the-dad's-name family tradition. Tia, Tamera, and all their siblings have names starting with "T", just like their own father Timothy.
And it looks like they snuck in that "T" tradition as well with his middle name. (By the way, Tia's middle name is Dashon and her mom's name is Darlene). Cute!
Us Weekly reports the news saying:
"I never knew how much love I could feel for someone," The Game star Mowry, 32, gushed to Us.

Added Battle: Los Angeles star Hardrict, 31: "We both have tears of joy!"
The couple's pregnancy will be documented alongside twin sis Tamera Mowry's wedding journey on the sisters' upcoming reality show called "Tia & Tamera" on August 8th on the Style Network. The Hollywood Reporter dropped details on the show:
Sister, Sister stars Tia Mowry and Tamera Mowry are teaming up once again for their new style show, Tia & Tamera (formerly titled Tia & Tamera Take 2 after their one-off special that aired in July) and The Hollywood Reporter has learned exclusively that the eight-episode reality series will debut on the Style Network on August 8.

The series follows the 32-year-olds as Tia goes through her first pregnancy -- she and her husband, actor Cory Hardrict, are expecting a boy in just a few weeks -- and Tamera plans her wedding to FOX News correspondent Adam Housely, who she got engaged to in January.
Can't wait to see baby Cree!