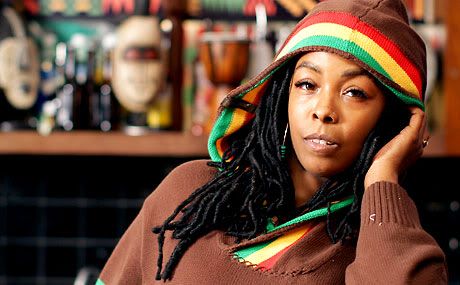 In a very explicit, outrageous and hilarious (you know, the usual Khia ish) rant posted on her blog, Khia blasts everyone. Again. Everybody from Amber Rose to Rick Ross to Debra Lee get caught in the attack. See Khia using her ABCs to diss the industry.....
We already knew that Khia has a nasty mouth on her, and now we know she has a nasty pen (keyboard) too. In a very explicit rant posted to her blog, Khia drops the ABCs, using each letter of the alphabet to attack a fellow celebrity/artist/reality star. She calls Beyonce a street walker, accuses Trina of having several STDS and calls Waka Flocka a joke.
Some of the things she said were outright mean and others were actually funny. Here are a few choice quotes:
Letter A- Amber Rose: Imma show this bitch a little love cuz she from Philly bald headed and all….She cute!!!! I aint gone judge the hoe because we all know she been on a strippa pole since she was 5 years old, suckin clits since 12, and decided to TRICK and SUCK every nigga in the game and all of a sudden wanna be a model at 35…… Get Money Biiiiiitch!!!!! But I am gone roast at the fact that she leaked photos on the internet of that MILE loooooong, 18wheeler, turned to the SIDE ass pussy with her DUMB ass and lost ALL of the MONEY! It didn't work for KATRINA HARBOR and its NOT gone work for YOU!!!!! Someone stole your computer, someone stole her phone……Heard it all before!!!! Chile boooo…Stick to what ya know……….Trickin, strippin and suckin dick and pussy lips…..Get money biiiiiitch!!!!!

Letter D- Debra Lee: Debra Lee You looked like Petunia the Pig up there…… Who styled you for the EBT Card Awards????? They needed to be STONED and HANGED!!! The fit was waaaaaay too tight around them BIG ass arms and that train was waaayyyyy toooooo long! Shit aint been the same since Bob Johnson left your FAT ass in charge!!! First you didn't want to play the Queen's "Been a Bad Girl" video then you fired Free and Aj and now this dress!!!!!!! Enough already……On to the letter E!!!

Letter G-Gucci Mane: Gucci Mane comes home this weekend….We doing it waaaaaaaay big in Chat Town, but pleassssse explain the rainbow colored ice cream cone you got tatted on the side of your face????? You still tryna trick and pick up hoes at the Greenbrier Mall flea market???? Come on now Gucci……Is that "What Dey Do?" That's all I got to say bout that!!!!!! Stay free this time……. PLEASSSSSE!!!!!!!!!! A is for Apple and J is for Jacks……No, A is for ASSHOLE and J is for JACKASS!

Letter J-Jamie Foxx: Do you really like showing dick or is you ready to dress like Wanda fulltime? The Drag Queen's loved what they saw…….Hollywood does change a nigga?
You know better with ya ole ass…….They should've never gave you niggas camera phones!!!!!! Don't no real niggas take pics of their dick with they camera phone. At least Eddie Long had on a tight T and bicycle spandex. Yall suga sweet ass niggas just letting it all hang out!!!!!!!

Letter K-Katrina Laverne Taylor and Kimberly Denise Jones: I done let Lil Kim have it on my single, "Fix Your Face," available on I-tunes so we gone dedicate the letter K to Katrina Harbor, who done gave all these niggas and bull daggers HIV, Lupus and Grave's Disease loosing hair and weight, with eyes and thyroids bulging out of the socket! Katrina Harbor has been killing niggas and bull-daggers for a whole decade! When is yall niggas gone tell the truth? The hood already knows dis…..Easy E aint the only one who went out with a BANG… So glad I didn't juuuuuump on that dirty diiiiiiiiiiick!!!!!!!Besides, I already let the world know on the "Hit Err Up" diss that Katrina Harbor's DURTY, ROTTEN and CORODED ass can't have no babies. Weezy hasn't been the same since he left your fuck ass so aint no need to tweet about you NOT being PREG!!!!!!When you don't take your meds you shrink like a prune and when you do, you get big as two Burger King's……Keep it real hoe!!!!!

Letter R-Rick Ross: Is you really selling dope on your IPhone?????? I did see you at the Tupac center but I am not sure if you were just there to promote that tired ass single or there to support Queen Affine and the children because all the money you claim you got, I didn't see you cut no check…..I'm a little sick of you talking about dope and fucking bitches in the ass on all your songs! Listen ladies, a straight man would not want to violate your ass, bypassing all that good pussy to go straight to the asshole…… I got a problem with that!!!!! Ass is ass…..If you try one, you tried them all!!!! Once again, boy pussy it is….Cocaine is a powerful drug!
Is it just me of does Khia seem bitter? One thing is for sure, she doesn't pull any punches when she lashes out. Somebody get this chick a reality show on Stank TV. Gotta love it...
Read the entire list of her ABCs on her blog here.