Lauryn Hill Insinuates Rohan Marley Is NOT Her Newest Baby Daddy?
Jul 26 | by Natasha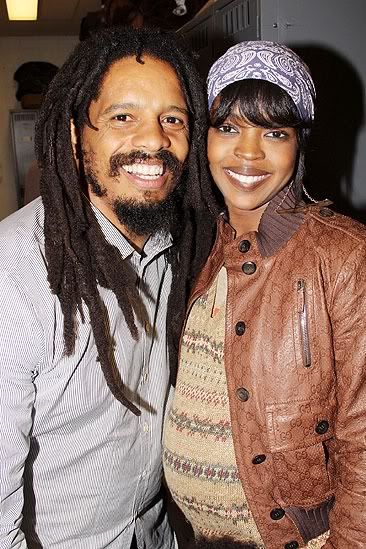 The official Lauryn Hill (MsHillMvngTrgt ) on twitter twit'pic'd an interesting msg to her followers Tuesday evening. She tweeted @ Rohan Marley, her children's father, as well. And she insinuated that, like Rohan previously said, her child she just delivered over the weekend is not Rohan's. Deets inside...
We're still unclear if Lauryn & Rohan are even together anymore. And L Boogie's newest message to her fans made us raise our eyebrows even more.
Rohan previously stirred up drama by alluding to the supposed fact that he is not the father of Lauryn's newest baby. Seeing that they've been together for a very long time, and share 5 other children together, it caught the public off-guard.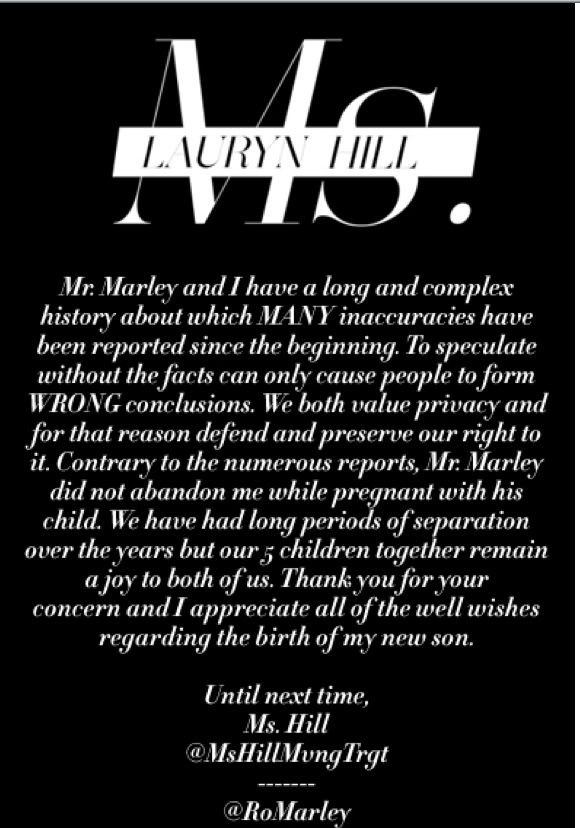 Now, Lauryn's chimed in with the same sentiments as Rohan with this message:
Mr Marley and I have a long and complex history about which MANY inaccuracies have been reported since the beginning. To speculate without the facts can only cause people to form WRONG conclusions. We value privacy and for that reason defend and preserve our right to it. Contrary to numerous reports, Mr Marley did not abandon me while pregnant with his child. We have had long periods of separation over the years but our 5 children together remain a joy to us. Thank you for your concern and I appreciate all of the well wishes regarding the birth of my new son.

Until next time
Ms Hill
@MsHillMvngTrgt
Interesting that she discusses THEIR 5 kids, but calls her 6th "hers". But she does say there were long periods of separation. SO I guess Lauryn will reveal the true father when she's ready. Congrats again to Ms. Hill on the newest bundle of joy!