BEYONCE: Women Who Never Hang With Other Women Scare Me!
Aug 05 | by Natasha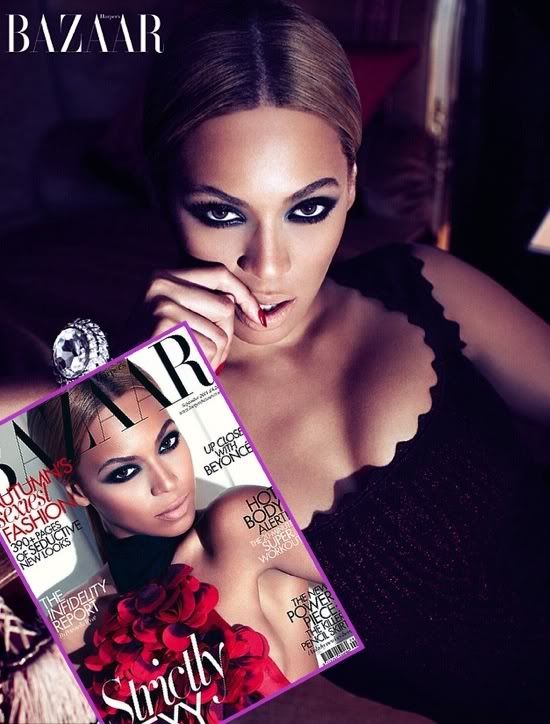 You've seen Beyonce's brand new spread for Harper's Bazaar UK magazine's September 2011 issue. And now we've got some excerpts from her cover story.
Bey opens up about the necessity of her feminist movement, female friendships, her bestie Gwyneth Paltrow, and turning 30. Check it...
In the September issue of Bazaar UK, after shooting a spread with famed photog Alexi Lubomirski at the Ritz hotel in Paris, Beyonce opened up about female empowerment..and how it almost gets her in trouble. Here's some excerpts:
On her powerful performance of "Irreplaceable" on stage in Egypt
"There were a lot of women in the audience in burkas. They were singing along to Irreplaceable – it was amazing! Some of the men got really upset! They were like to their women, 'We have to get you out of here!'....I guess some of them (men) do get annoyed. But I never want to do "the banner thing".
On being proud of her feminist outlook
"I don't really feel that it's necessary to define it. It's just something that's kind of natural for me, and I feel like...you know...it's, like, what I live for. I need to find a catchy new word for feminism, right? Like Bootylicious."

On the importance of having female friends, especially like her bestie Gwyneth Paltrow
"I'm afraid when women never hang around with other women. That's a little scary to me – why is that? [Gwyneth] pushes her boundaries all the time. You go to her house and she makes you feel like you never want to go home. She is what I strive to be one day."

On being excited to enter her 30's
'This is such a pivotal moment in my life! I'm transitioning as a woman, and I'm finally able to express myself as I am.'
Check out the behind the scenes footage from her shoot below:
The issue hits stands tomorrow (Saturday).
EXTRAS:
1. Chris Brown's brand new mixtape Boy In Detention is out and available for free download. STORY