KISS & TELL: Selita Ebanks Disses Diddy's Kissing Skills, Says Nick Cannon's Manhood Is "Eh...", & What Her Issue Is With "Voluptous Women"
Aug 13 | by _YBF
Supermodel Selita Ebanks gave a funny interview recently where she was asked to rate the kissing skills of Diddy and her former fiance Nick Cannon. Then she gave a "not so enthusiastic" reaction when asked about the size of Nick Cannon's...manhood. Get the deets inside....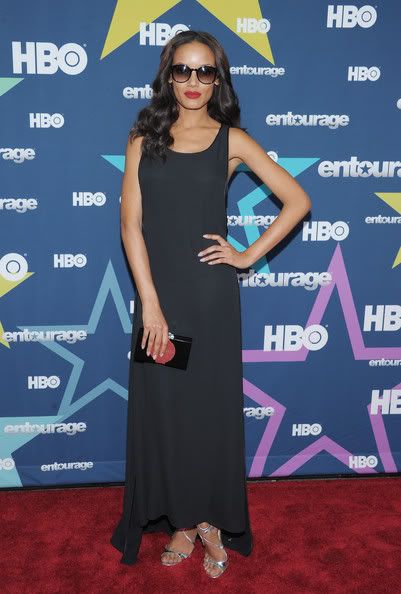 Selita Ebanks recently chit chatted in an interview with the HDNet talk show "Naughty But Nice Rob" at the Gansevoort Park Hotel in NYC, and she gave up the deets about what her ex Nick Cannon is working with.
While discusiing her acting career and kissing Diddy for a job, Selita was asked to rate Diddy as a "kisser" and her response was "Ehh...it was acting." Womp.
And when asked how Nick Cannon was as a kisser and about the size of his "little Nick" Selita gave a verbal thumbs down saying "Meh" with a sigh. But that's not all....when discussing their engagement she said,
"I mean I technically wore a ring but I don't think I was really engaged. I want a Prince. I want Prince Harry. Do you think the queen would accept me?"

Hmmm....I guess she was keeping her options open for something better. Seems like MiMi's mighty pleased though.
She also talked about the catty backstage antics at the Victoria's Secret shows,
"Well if you're an angel those other bitches don't mess with you," Ebanks dishes. "Behind the scenes you do hear snide remarks. I've heard girls literally talk about another girl in her face, and literally if she had claws she would be minced meat."
And then she gave her opinion about "voluptuous women":
"Listen, I love voluptuous women, what bothers me is when they wear spandex. Don't wear spandex ladies if you are over size 16. Just because it comes in your size does not mean it's for you. As women we can wear whatever we want, be sexy but just know the difference, everything has a time and place."
Alrighty then....
You can catch the full interview on HDNet today at 1:00PM & 7:00PM. Here's the clip in the meantime: