OH HELLS NO: Sheryl Underwood & Kris Jenner IN - Leah Remini & Holly Robinson OUT At CBS' "The Talk"
Aug 25 | by _YBF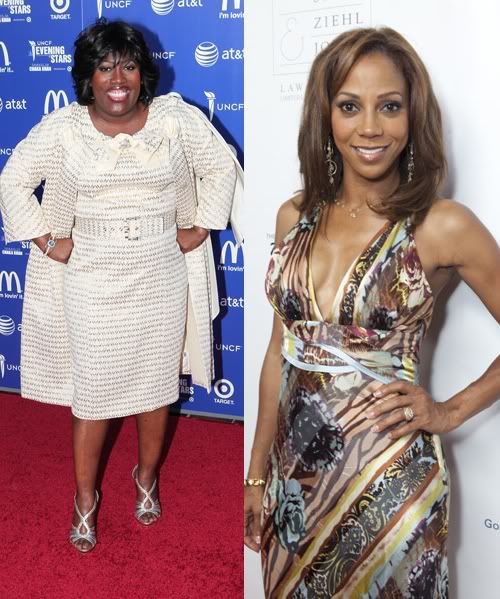 Comedienne Sheryl Underwood just landed her most high profile gig yet as she's been selected to co-host "The Talk" when it returns to tv on Sept 6. Get the deets on the new gig inside and find out what reality show MOMager......
There are big changes in store for the CBS chat fest "The Talk" which recently fired industry vets Leah Remini and Holly Robinson (though the politically correct thing to say is their contracts were not renewed).
The show is making room for reality tv mom Kris Jenner and comedienne and Steve Harvey radio show regular who also has "The Sheryl Underwood Show" on Sirius, Sheryl Underwood. Not feelin' this ish. Now publicity hungry Kris has another hour long platform to simply (and only) push her and her daughter's products and shows. Let's keep it real--that's all Kris is looking for.
Kris is being brought on to fill in for Sharon Osbourne who is taking time of to be with her husband Ozzy (and possibly also being looked at to fill Leah's role) for 2 weeks, while Sheryl is coming on as a "fill-in" with the option to become a permanent co-host.
While the search is still on for permanent hosts, Sheryl and Kris will join Julie Chen and Sara Gilbert on Sept. 6 for the debut of season 2.
SMH.....not happy about this at all! Holly brought a certain level of style and class a YBF Hollywood chick should to the panel. But, once again, the powers that be seem threatened by a beautiful black woman who actually cares about her appearance, is not there simply to entertain the crowd and have them laugh with/at her, and has decades of experience and talent in this game. I guess we should say hooray simply because a black woman is on tv even if I was never a fan of her talents. But I can't hold my tongue completely since I'm feeling some kind of way about this.
Another interesting point is that "The Talk," unlike "The View," makes their main focus (and differentiating quality) on families--with the co-hosts themselves making their marriage and kids a focal point of the show. Anyone else find it interesting the ONE person on the panel that will be unmarried with no kids is the black republican female Sheryl who praises Bush and downs President Obama quite often? Holly is almost the exact opposite--married for almost 2 decades and has 5 kids and praises President Obama? Y'all know I'm a big proponent of not only black women BEING on tv, but how black women are portrayed on national tv. And the message it sends to the world. And I, for one, am getting tired of the transparent motives. Just sayin'....
*sidenote* I do appreciate that Sheryl is a military vet and the President of a NPHC organization and also involved in politics. I have a degree in Political Science so I can appreciate the debate from both sides of the aisle and people's views from both. What I DON'T appreciate is someone taking a certain view simply for attention and using it as a part of their comedic image. Especially when others do not take their opinions seriously because the person can barely articulate their own views without using comedy. I do not agree with THAT being the voice of black women on daytime tv. I'm still feeling like there's an ulterior motive at play....