Beyoncé's Pregnancy Delays "A Star Is Born" Filming
Aug 29 | by Natasha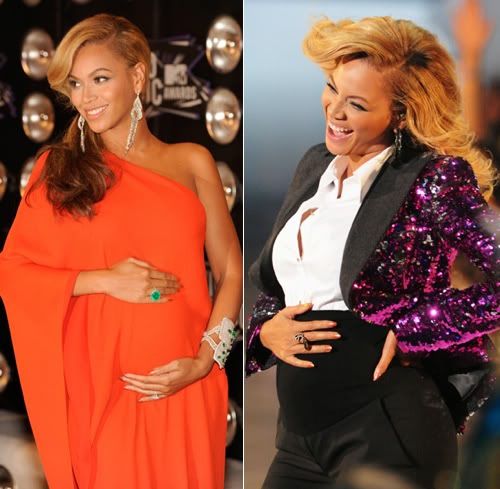 Her love is indeed on top...and in her belly...and that's Beyoncé's priority. So due to her newly revealed pregnancy, her lead role in A Star Is Born is reportedly about to be put on hold until after she drops the new Baby Carter.
Deets inside...
Deadline Hollywood reports Warner Brothers wanted to begin filming Clint Eastwood's new remake of A Star Is Born February 2012. Beyonce would either be in her last days of pregnancy or had just given birth around that time. So the studio is likely pushing back the production date. Plus, they still need to find a leading man.
I've learned that Warner Bros was hoping to start production on Clint Eastwood's musical remake of A Star Is Born as early as February 2012. But now insiders tell me it "could push" because Beyoncé announced her pregnancy tonight at MTV's VMAs. That will give the studio more time to settle on a male co-star for the singer/actress since Eastwood's first choice, Leonardo DiCaprio, isn't doing the pic.
Leading men being considered: Will Smith & Christian Bale.
The movie has been in pre-production for years and the mom-to-be seems to be the leading woman they're intent on keeping no matter what. At least they didn't drop her like the studio dropped Hilary Duff from the Bonnie & Clyde remake once she announced her pregnancy.
Congrats again to Beyoncé for all the BIG THINGS in the works!