BRAWL DETAILS: Teyana Taylor & Movie Director's BLOODY Knock Down Drag Out FIGHT On Set!
Sep 01 | by Natasha
In case you weren't aware (hell, we weren't either), Teyana Taylor's shooting a new movie (pictured here on set) called Gang of Roses 2 co-starring Amber Rose, her man Wiz Khalifa, and a few other folks. And while the movie itself will likely be straight-to-DVD, the drama on the set is surely getting all types of coverage.
Apparently, Teyana went bad on the movie's director, Jean-Claude La Marre. The Harlem chick tried to whoop his ass because he wouldn't let her leave set to tend to a toothache. Deets inside...
On the L.A. set of this movie, Teyana popped off in major proportions on her director all because he wouldn't let her leave the set via car service. Apparently, Teyana attacked him and started swinging on dude--according to La Marre. And she ended up getting pushed and literally scrapping on the set--clothes torn, face bloody and everything. But La Marre said he was just defending himself.
TMZ reports what La Marre says went down:
Teyana and the director -- Jean-Claude La Marre -- were filming "Gang of Roses 2" last weekend outside L.A. ... when Teyana asked to be taken home because the pain was just too much to bear.
According to 20-year-old Teyana, she asked multiple times to be taken home by car service -- and when La Marre continually refused to allow that ... she got in his face and started shouting. Teyana claims La Marre shouted back, "Don't f**king scream at me bitch" ... and pushed her in the face, hitting her aching tooth.

La Marre claims he only defended himself ... AFTER Teyana "jumped on me and began swinging" -- but says he never hit her.

Whoever started it ... we're told several crew members had to separate them. Teyana says during the scrap her shirt was torn open (above), she got popped in the nose and mouth -- and the blood ended up on her denim shorts.

Teyana's people say they are considering legal action. La Marre says the only reason he didn't file charges is because "she's 20 years old and I'm 40 ... kids lash out."
Now, the director has supposeldy added in a twist to the movie and killed off Teyana's character. T has filed a restraining order.
Need picture proof?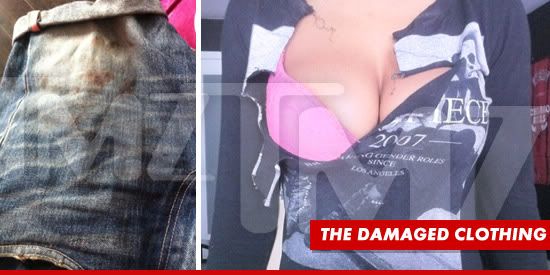 What in the you-can't-take-the-hood-out-a-person ish is this??? Now, real talk, I've had a similar toothache situation and it aint your normal pain. The ish WOULD make you haul off and whoop somebody's ass if they're preventing you from making it better. But still.
What's REALLY hood?