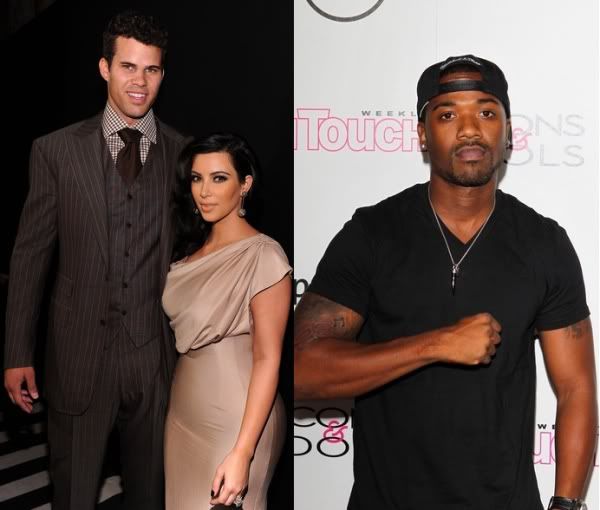 Kris Humphries is sitting on a plane. Of course, it's first class. Who's the last person you'd expect to end up sitting next to him? EXACTLY! Ray J. Find out about their awkward exchange inside....
It's bad enough when you see you current partner's ex from across the rooom. But imagine being in the confined space of an airplane where there's no where to go and you are forced to acknowledge each other!
That's exactly what happened to Kris Humphries on Sunday when he bumped into Ray J (Kim Kardashian's ex) on a Delta flight from LA to New Orleans.
According to the NY Post (take it or leave it), Kris was already on the plane sitting in an aisle seat when Ray J boarded and sat across from him. Umm....awwwwkward.
Sources say Kris sat there for a few minutes (probably with all kinds of thoughts racing through his head) before he moved to a seat in front of him. Seeing the guy face-to-face who banged out your wife on an international platform would have that effect on you.
But being the gentleman that he is, Ray J broke the silence and went up to Kris to congratulate him on the wedding. But the source said Kris threw some shade and pretended that he didn't know who Ray J was. SMH.
Then Ray J said, 'Come on, you know who I am. I just want to say congratulations.' After getting called out, Kris said, 'Oh yeah, yeah, I'm sorry I know who you are.' "
I wish I could have been in seat B3.....with my iPhone strategically placed.
In other Kardashian news, if you care, there's a mystey buyer speaking to Vivid Entertainment about buying the rights to the Ray J/Kim K sex tape for $30 mill. No one knows who it is but.....the $65 million dollar Kardashian clan could surely afford to take the tape off the market. But we ALL know they don't even like to pay for a pack of gum out their own pockets. Maybe E! can sponsore the deal...