WHAT'S BEEF: Evelyn Lozada Still Beefing With Kita Of "T.O. Show"...& QUITS Reality TV?
Sep 07 | by Natasha
Even though Chad Johnson and Terrell Owens might be besties--their girls surely don't get along. "Basketball Wife" Evelyn Lozada arguably took a stab (via her follower) at "T.O. Show" star Kita the other night on Twitter. And she went with the low blow--dissing her weave and features.
Apparently the girls have been beefing ever since both Mo and Kita called Evelyn a disrespectful non-mutha f'in factor. And now Evelyn says she's quitting reality tv. Deets inside...
The other night, Evelyn RT'd one of her followers who said that Kita is a "thisty-synthetic-weave-wearing tranny." She responded with "Wow". And commenters around the net feel like it was a clear swipe at Kita as the two have had beef in the past. The fact Evelyn thinks ANYBODY ELSE thirsty is hi-larious. And Kita responded by taking the high road:
And just a little while ago, Evelyn tweeted that she's "done" with twitter, of course, and that she will not be signing on to do any more shows. Alrighty then.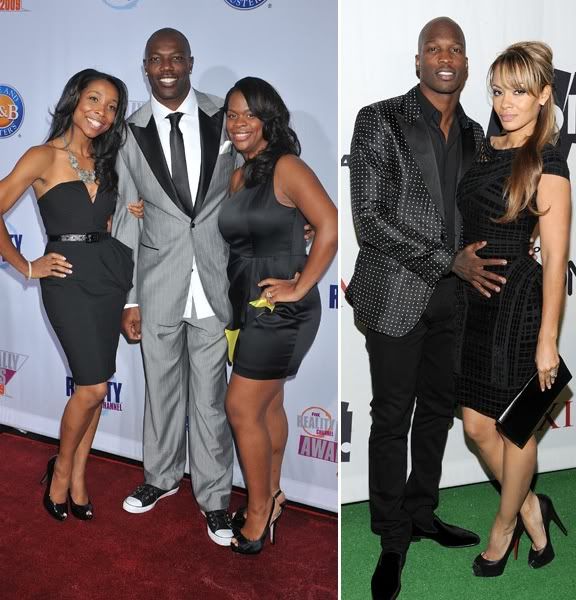 So how did all this beef begin? Well, from what is public, Mo and Kita gave a short interview to Hip Hollywood back in June where they went in on Evelyn for her disrespectful behavior and for sleeping with Chad...on tv...the first night she met him:
Summary of what Mo said:
"Let's just say Evelyn…we already know that she is the 'non-mother f–kin' factor.' We're clear on that, right? And more than not, what she reminds me of is a walking yeast infection, 'cause everybody's had one. She met, she greet-meet and slept with a man all in the same night, and then he's not doing any better. Don't get me wrong; I know Chad. I've associated with Chad. I've worked with Chad, but at the same time he's sending the wrong message to women, to guys, thinking it's 'okay' to wife somebody that you've portrayed the image of sleeping with all in the same night. And then she's supposed to be a mother so how is she setting an example for her daughter [who is] of dating age?

And then she slept with someone's [Tami Roman's] husband, regardless of whether you were together, separated, or not, he's still a husband. And she pretended to be this chick's friend. I don't care if it was a month, a week, or a day. You sit in front of this woman's face and hee hee and ha ha, knowing that you've had her husband **** you down? Oh Tami should have beat her a–."
It didn't help that Kita chimed in calling her a "Non mutha-f'in factor."