Mel B & Stephen Belafonte Show Off BABY MADISON In HELLO! Mag
Sep 20 | by Natasha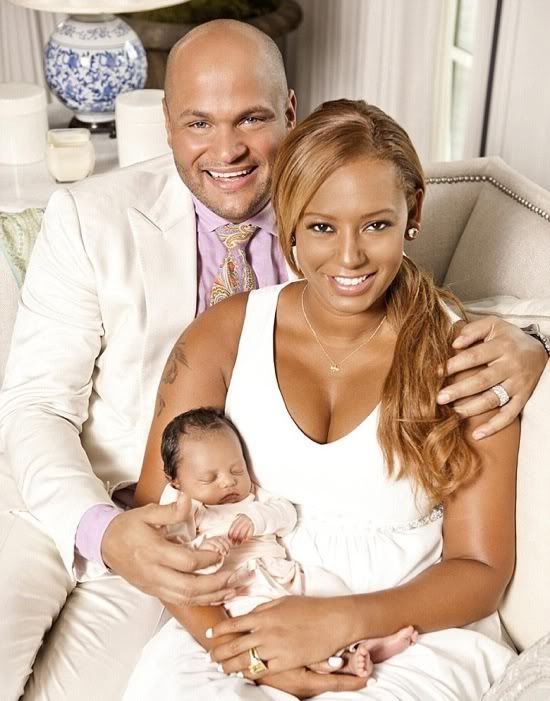 Mel B. & hubby Stephen Belafonte wasted no time showing off their brand new baby girl. Pics of 3-week-old Madison Brown Belafonte gracing the cover and pages of HELLO! Magazine and what the parents have to say about her inside...
Well isn't she lovely. New parents (who already have 3 older kids total--Phoenix (12), Angel (4), and Giselle) Mel & Stephen are clearly a proud mommy and daddy. They have their daughter Madison Brown on full display just weeks after she was born.
About Baby Madison, who was born at six pounds and two ounces, Mel gushed to the mag that she is 'so gorgeous and such a chilled baby'.
Mel says she "feels like she's finally done it right" when it comes to her family. The full interview with Mel is in this week's edition of Hello! magazine which is out now. Here's an excerpt:
'Ideally you want to have your loving partner who you've created this baby with by your side throughout everything, and in Angel and Phoenix's cases, that wasn't the set up.

'I had a rocky marriage with Phoenix's dad [dancer Jimmy Gulzar]. The relationship with Angel's dad, Eddie, was over halfway through the pregnancy, and I had to suck it up and get on with it.

'This time I've done it with my partner - someone to come to every prenatal appointment with me, to get excited by every scan - and it feels like I've finally done it right.

'When I was moaning to Stephen about my trapped nerve I was thinking, "I've never had anyone to complain to about these kinds of things".'
And about her labor that she says she laughed all the way through:
"Phoenix had one leg and Stephen the other... they were winding each other up. I was cracking up so much I didn't need to push," she says.
Mel and Stephen flew to Sydney over the weekend to snap the pics for the mag. And Mel is on the continent to film "X-Factor: Australia" which starts filming in 2 weeks.