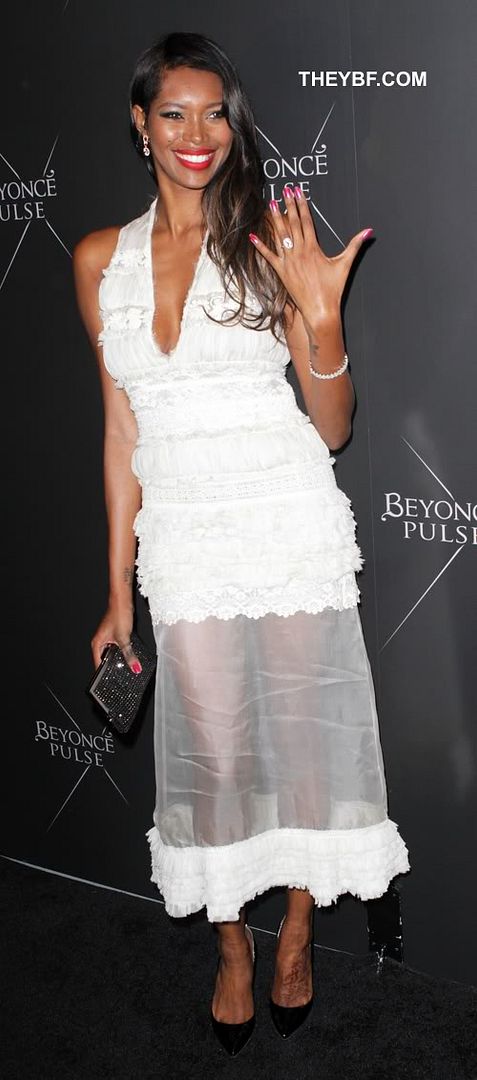 Folks were shocked when supermodel Jessica White showed up sporting a large Mauboussin ring at Beyonce's Pulse perfume launch a few days ago. We confirmed then with Jessica's rep that she is indeed enagaged. And now the identity of the man who laced Jessica with the huge ring has been revealed. Find out about Jessica's fiance' inside....
According to the NY Post, supermodel Jessica White is engaged to British-born Wall Street banker Bruce DeWitt.
A source close to the couple recently said,
"They've known each other for a while, but have kept things very low-key. They got engaged last week and want to get married as soon as possible. Jessica is really happy."
The source continued,
"Her past relationships have suffered from being so public, so she wanted to protect this one."
Jess was seen wedding-dress shopping yesterday at Vera Wang. And the couple hosted an engagement party last night at Co-Op in NYC for their close friends. I see she's not wasting any time. Her fiance's identity is still laced in secrecy...for now.
Congrats to Jessica!