Kenan Thompson Gets ENAGAGED+Deion Sanders Says He & Pilar DISCUSSED A Split
Oct 01 | by Natasha
"SNL" star Kenan Thompson just got engaged to his Maxim model girlfriend Christina Evangeline. Deets on the uber quick wedding planning for the former Nickelodeon "All That" & "Kenan & Kel" star, plus what Deion Sanders NOW says about the Pilar divorce rumors...
Kenan Thompson is 33 now. And he just popped the question, according to Us Weekly, to his model girlfriend Christina Evangeline (pictured above). And they're getting married in less than a month--November 11th! From "All That" to all this. Damn time flies.
Christine says she doesn't call herself a model though, according to her twitter, because she only posed for 2 Maxim magazine layouts. She says she's got a degree and ambition. Alrighty then. She tweeted about Kenan: "He's my best friend. I could only be so lucky."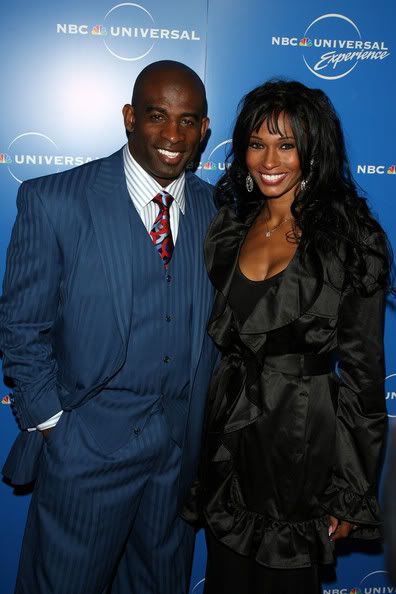 On the flipside of the marital coin, Deion Sanders is still speaking out about his non-divorce from wife Pilar. Rumors flew a couple weeks ago that the Hall of Famer turned NFL Network Analyst was filing for divorce. He shot down the rumors last week. But now, he tells TMZ he and Pilar were indeed discussing a separation, but he never filed the legal paperwork:
Prime Time says that he and Pilar are currently still together -- but in the process of figuring out "what's best for our future, our lives, and our kids."

Reports are circulating the two split after allegations Deion was unfaithful -- but Sanders tells us the infidelity rumors were nothing more than a failed extortion attempt.

As for why the marriage is rocky ... Deion explained, "it's not one isolated incident," adding, "sometimes you just grow apart."
Pilar previously appeared on the short lived "Football Wives" show on VH1.