SURPRISE! Beyonce Pops Up At The University of Houston To Support Honoree Mama Tina
Oct 04 | by Natasha
Beyonce, her mother Tina Knowles, and cousin Angie all traveled back to their hometown of Houston, TX yesterday for a great cause. Mama Tina was being honored by the University of Houston Friends of Women's Studies Living Archives program (who honors local women) for all her fab accomplishments.
Details and cute pics inside....
It's no secret Beyonce and her mom are extremely close. So Bey looked like the uber proud daughter, in her multicolored bump gracing shift dress, as her mother received accolades from the MD Anderson Library for her accomplishments as a mother and businesswoman.
Houston Chronicle reporter Joy Sewing (above), wearing a Miss Tina for Walmart purple wrap dress and Prada shoes, was on hand to interview Miss Tina on stage during the event. Sewing stated:
Miss Tina (as she prefers to be called) was a gracious interview and made my job easy. She talked about her life growing up in Galveston and her business as a hairstylist and then a costume designer and stylist for Destiny's Child. She spoke of her love for her late mother Agnez Dereon and her dedication to her two daughters (Beyonce and Solange). Miss Tina even teared up a bit. Beyonce, who sat near other family members, was just as kind. Every time I glanced at B (that's what they call her), she smiled at me. In the back room, mannequins displayed some of Beyonce's most recognizable red-carpet gowns, which Miss Tina designed. Beyonce's five Grammy awards from 2003 were also on display.
Sweet!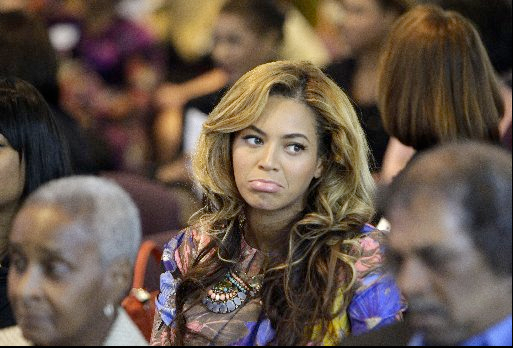 And why is Beyonce making this face? Maybe because literally hundreds of students showed up outside the library doors within 5 minutes of finding out she was inside. And they screamed and chanted her name throughout the event. Sewing reported:
Then the students came. Hundreds of them (who likely got word that B was on campus via Twitter) piled into UH's M.D. Anderson Library and began chanting, "Beyonce! Beyonce!" It even interrupted the interview for a few minutes. Beyonce, who is pregnant with her first child, was a bit bothered by the chaos since it was her mother's big day. But afterwards the singer, wearing 5-inch heels, made a quick stop in the lobby to wave to the students: "Wow, this is crazy how fast that happens," she said to me. "Just one tweet."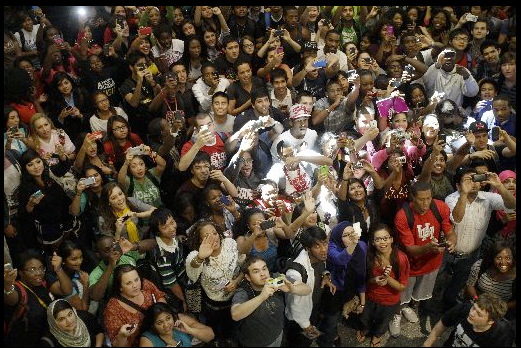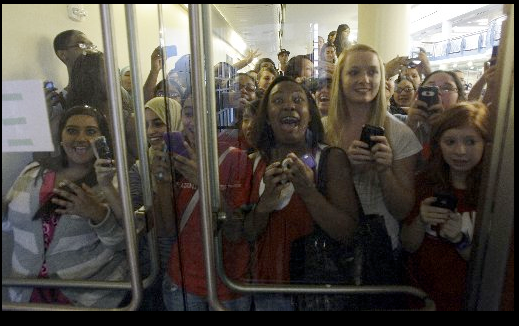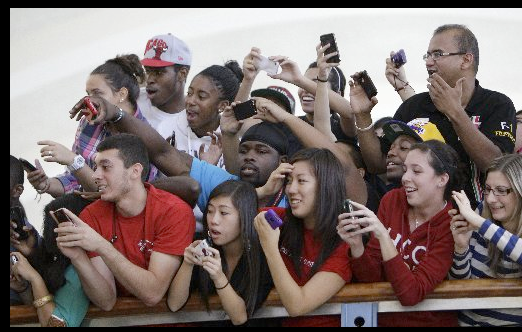 Wow. Miss Tina's family was there to support as well:
Congrats Mama Tina!
BONUS: Here's video of the "Countdown" singer making her entrance:
Source: Houston Chronicle