FLOTUS Michelle Obama Talks Fitness And Shopping At Target + 10-Year-Old "Work Out Kid" Stealing Shine From Justin Bieber?
Oct 12 | by _YBF
The FLOTUS Michelle Obama was featured on the "TODAY" show this morning speaking to Al Roker about her Let's Move campaign and her "secret" shopping trips to Target and Petco. Get the deets inside and find out about the 10-year-old boy and his 8-pack that rivals Trey Songz...and the uproar he's causing (good and bad)....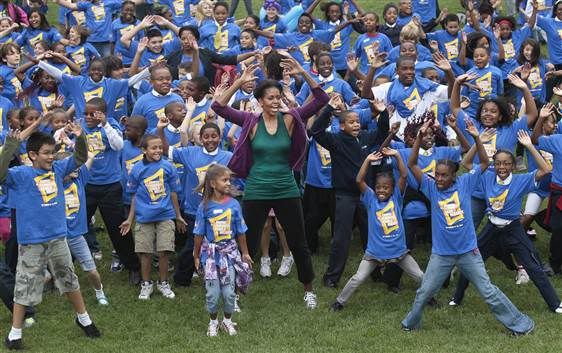 First Lady Michelle Obama has had a very busy week. Yesterday, she led hundreds of local school children in doing one minute of jumping jacks on the South Lawn in hopes of breaking a world record for most people doing jumping jacks in a 24-hour period.
The verdict is still out on whether that happened or not, but Mrs. Obama did take time to talk to Al Roker about her Let's Move campaign and also to reveal that she makes secret shopping trips to local stores in the DC area. Yeah, we noticed.
Watch the FLOTUS' interview with Al Roker here:
And in other health news for the kiddies:
With over 4,500 workout DVDs sold or donated, 10-year-old CJ Senter is taking the workout world by store and giving dudes like Usher and Trey Songz a run for their money in the body department.
First......get a load of his 8-pack!
Although CJ isn't officially a part of the FLOTUS's Let's Move campaign, he's started his own movement with kids around the country and the word on the streets is that he's the Justin Beiber of fitness. He has fans and a huge following!
And he's serious about weight-loss goals saying,
'You can go outside and have fun, but some kids, they'll just go outside for like 10 minutes and come back in. But if you just do a workout, your body will sweat more.

'Sweating, it lets, you know, you're losing weight. You're really working.'
But not everyone is co-signing this. Some parents are up in arms saying this is a bad example to teach kids to be such workout fanatics. And some doctors say it's unhealthy for a kid this young to be doing such strenuous activity. Your thoughts?
Get to know the ab-tastic Work Out Kid here: