Nicki Minaj COVERS "W" Magazine's November 2011 Art & Fashion Issue + T.I. Working On Relationship Book With Tiny
Oct 14 | by _YBF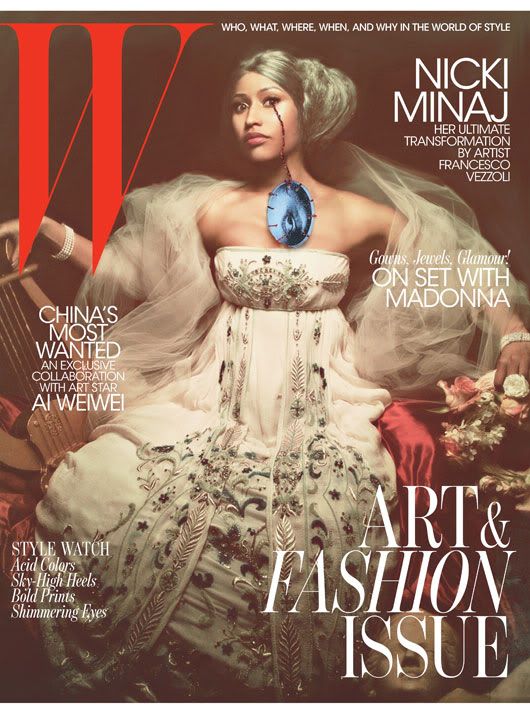 Dressed as an 18-century courtesan, Nicki Minaj covers the November issue of "W" Magazine. Get the deets inside and find out about the new books T.I. is working on....
For the Art & Fashion issue of "W" Magazine, Nicki Minaj was transformed by photographer/artist Francesco Vezzoli and styled by Edward Enninful to showcase the types of women during the 18h century--which was glamourous in its own right.
In the cover photo, directed by Pasquale Abbattista, Nicki wore a Dior Haute Couture's silk chiffon embroidered dress; Mastoloni 18k white gold, cultured pearl, and diamond bracelets (worn on both wrists); MAC Matchmaster Foundation SPF 15 in 7.5; This & That Mineralize Eye Shadow; Going for Gold Technakohl Eye-Liner Kajal; Haute & Naughty Lash mascara in Black; and Cremesheen lipstick in Spice Is Nice.
Nicki was shot as Madame Barbe de Rimsky-Korsakov....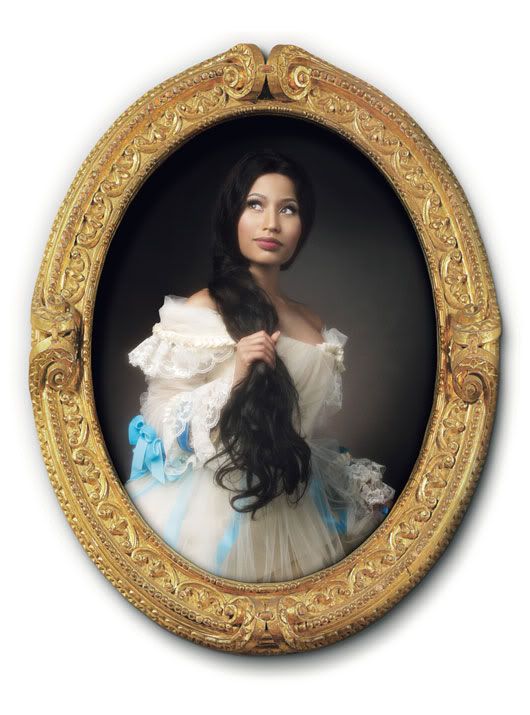 She wore a Vera Wang's garza and French tulle ballgown.
Famed photog Vezzoli explained why he wanted to use Nicki as his subject:
"I wanted to play with the public image of a female hip-hop star. During my entire career, I have always been fascinated by powerful women in history. I have spent a lot of time researching the ways they were represented in art and how their images were used to mold the public imagination—and to convey aesthetic and philosophical ideas about beauty and sexual desire. My main interest has been to link the historical artistic approach to female representation to contemporary icons of the media era."
Next up was the Rococo Portrait of Nicki as Jeanne Bécu, Comtesse du Barry
She wore a Dior Haute Couture's silk chiffon embroidered dress. Mastoloni 18k white gold, cultured pearl, and diamond bracelets; and vintage Manolo Blahnik shoes.
Vezzolia also revelaed his inspiration behind this shoot:
"In her performances, Minaj makes very explicit and ­challenging use of her beauty and her body, so I thought of comparing her to some of the most famous courtesans in history: the Marquise de ­Montespan, Comtesse du Barry, Madame de Pompadour, and ­Madame Rimsky-­Korsakov. My idea was to reproduce four iconic portraits of some of the most fascinating females of the past in a series starring an American pop-culture role model. We tried to re-create those original portraits using similar furniture, props, and clothing, à la Visconti. Luckily enough, the result came out as surreal as it could be, just as I wished."
Then Nicki posed as Françoise Athénaïs de Rochechouart de Mortemart, Marquise de Montespan
And on bookshelves....
T.I. is set to release his first fiction novel, Power & Beauty: A Love Story of Life on the Streets (with co-writer David Ritz) on Tuesday, Oct. 18 and is already planning its sequel. He recently told XXL,
"We're right at the end of [Power & Beauty II] right now. We're trying to figure out how to end two and begin three."
Published by William Morrow/Harper Collins, the book follows the lives of lovers Paul "Power" Clay and Tanya "Beauty" Long trying to make it in the Big Apple.
He also revealed he is working on a relationship book with Tiny.
"Tameka and I, we looking to do [a] his and her relationship book, how to get right and keep it tight."
If getting it right involves multiple out of wedlock births and trips to jail....I guess.

W magazine credits: Hair: Terrence Davidson/ Maakeup by Aaron de Mey/ Manicure by Honey at Exposure NY/ Set design by Stefan Beckman