So Norwood Young Isn't Broke Or Using A Sugardaddy Afterall?
Oct 14 | by Natasha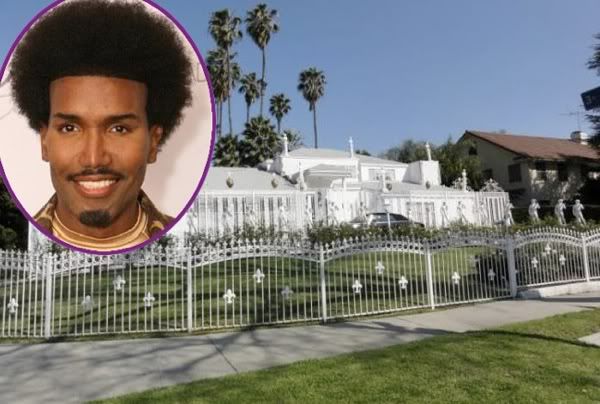 Looks like Norwood Young isn't going broke afterall. Despite reports of selling his L.A. mansion at a dirt cheap price and having to reach out to an alleged sugardaddy, we've found out that's not the case.
Deets inside....
We were one of the sites to receive the bad info about just what was going on with Mr. Norwood Young and how his lifestyle came to be. And we decided to get to the bottom of it for the real deal once and for all.
Folks have been wondering for years exactly who Norwood is and how he copped his interesting 7 Bed/7 BR & 4,832 sqft home for $1.2 mill back in '97. Most haven't heard his songs he stays he makes his money from. But it looks like he's going to make more mula from his upcoming estate sale for his interesting decor, his books, Broadway, and putting his house on the market for $1.79 mill (he just came down from his $2.4 mill ask).
Just what has Mr. Norwood done in the entertainment world you ask? We asked too. And found these little nuggets of info. According to L.A. Blockshopper:
Young is a singer, author and activist. He is also the author of Getting Back To My Me, an inspirational memoir that sheds light on the devastating effects of childhood sexual abuse. He first auditioned for the leading role of James Thunder Early in the off Broadway production of Dreamgirls, wherein he got the lead role.
He was also seen on the Broadway shows, Momma I want to Sing, Part.2 and Don't Get God Started and A Good Man is Hard to Find. He is also the owner of the nightclub, Club Collage.

Norwood also told us recently that his "look" is due to sex abuse issues, not vanity or sexual orientation reasons as previously reported. He actually revealed details about it back in February when he included it in his book:
"Keeping this a secret, it manifested into drug abuse. It manifested into psychosis. It manifested into self-mutilation in the form of more than 15 plastic surgery procedures. I had the voice of my cousin in my head saying, 'Shut up! It's supposed to hurt. You're a pretty boy,' so I didn't want to look like that, didn't want to look like myself. I don't like my eyes, I don't like my cheeks. I would just change this stuff. And I was able to mask the reality with these idiosyncrasies in a show business community where they're not only accepted, but admired."
We stand corrected. Now we know....