NEW GIGS: Marlon Wayans Creating And Starring In New ABC "Cop" Comedy + Mo & Kita Launch A Line Of Beauty Products
Oct 17 | by _YBF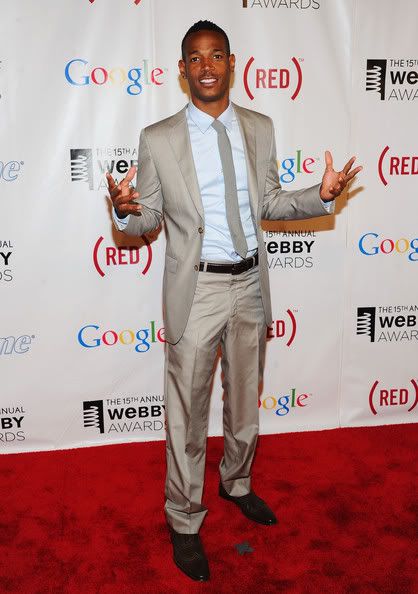 Funnyman Marlon Wayans is returning to network television in a new sitcom he's created about two cops. Get deets on the show inside and find out how you can buy beauty products from Mo & Kita to raise money for a good cause.
Hollywood is buzzing about Marlon Wayans' new sitcom deal with ABC. He's just signed on to write, executive produce and star in a hybrid single/multi-camera comedy about two brothers, who are both cops, and how their lives are turned upside down once one of the brothers is forced to move in with the other.
Marlon will be executive producing with his manager Lisa Blum and longtime producing partner Rick Alvarez of Wayans Bros Entertainment, (which he runs with Keenan Ivory and Shawn Wayans).
And if you were wondering where Marlon has been, he is currently working with Jennifer Pryor and director Bill Condon on the Richard Pryor biopic, where Marlon will play the legend.
Congrats to Shawn! And it seems like ABC is a comfortable place for the Wayans. His nephew Damon Wayans, Jr. stars on the network's "Happy Ending" and a few years ago, Damon Wayans had his own sitcom on ABC.
In other entertainment news....
Though the Basketball Wives Franchise may be the marquee act over at VH1, it's the star's of "The T.O. Show" Monique "Mo" Jackson and Kita Williams who deserve the attention and respect for what they are doing to empower Black women.
The pair have recently formed a non-profit empowerment campaign entitled, Define Your Pretty which seeks to empower women from the inside out by creating a dialogue about the women are portrayed in the media.
So how exactly are they doing this? For starters, the duo is headlining the United Negro College Fund's (UNCF) 2011 "Empower Me Tour," where they are discussing their empowerment campaign accompanied along with their Define Your Pretty Collection of hair and beauty products.
Some folks may ask why you need to sell beauty products if you are trying to focus on inner beauty, so Kita says,
"Pretty isn't just about the visual aspects…a lot of young girls don't understand that. Define Your Pretty means you define pretty by your own standards. You can be pretty talented, pretty creative, pretty smart...Once you define that from the inside, you can use the Define Your Pretty Collection products to gloss yourself up on the outside."
And when you are ready for the gloss, you can start with Mo and Kita's line of lip gloss, flat irons, hair wax, head wraps and other essentials for Black women.
Do you think you'll check out their products?